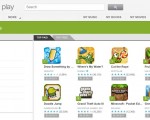 The Google PLAY Store was once called as the Android Market. It's a haven for all smartphone and tablet users who are fond of mobile apps and games. And speaking of mobile games, what we have here is our own list of the ...
If you've played Paradise Island on Android, you've been in the clutches of Android game developer Game Insight. The wildly popular developer has released its new game for Android and instead of managing an island ...
On July 6, 2011, Shiny Egg Studios announced the release of Domino Run for Android on their web site. It is a puzzle solving take on the traditional Dominos that we all are familiar with and played with as children. Features The ...
Roboto a new, old-school-style side-scroller 3D game from Fenix Fire, which hit the Android market on July 28, 2011. You play a robot on a hover board and side scroll your way through many levels with obstacles, opponents, gathering ...
The 16th July, 2011 released "Sheep At Stake" is a cute little game from the same developer that brought Magic Cuts. This colorful little game may look cute, but don't be fooled by its cuteness since it has an insane difficulty ...
Raging Thunder 2 is a nice 3D racing game which promises to pump up the adrenaline of the players. It is a handheld game with high quality graphics. The graphics are gorgeous and bring an array of vistas from different parts of ...