Just a month ago, Sony announced that the Sony Tablet S will be receiving an Android 4.0 Ice Cream Sandwich (ICS) update in late April. Now, it seems like the company is fulfilling its promise as the update rollout for the Tablet S has already been started bumping its current operating system (OS) into the latest version of Android. Instead of posting an article to point out the enhancements Sony has added to the stock Android ICS, the company posted a 1:34-minute video on YouTube allowing owners to see firsthand the power of enhanced ICS on a Sony Tablet S. In a bid to be more detailed in this posted, I've listed all enhancements and tweaks as shown on the video.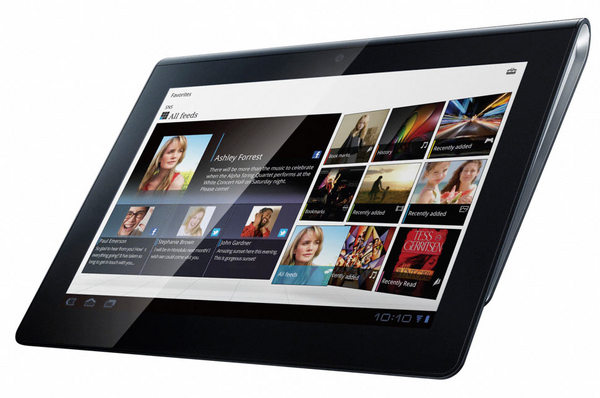 Sony Tablet S Android 4.0 ICS Features
Enhanced Lock Screen. You will now have a direct access to Notifications. If you're done reading them, you can simply swipe them off the screen instead of tapping on any buttons just like in other Android tablets in the market today. Also, if you want to launch the camera directly when you unlock your device, you can do so by swiping the lock button over to the camera button.
New Camera Mode. Sony added just a simple panoramic camera mode to provide a little enhancement to a typical boring photos. At least, you have another option what to do with those nature shots you took.
Enhanced Gallery Media Viewer. There is a new set of photo-editing tools that you could use to crop, cut or enhance your photos. These tools will come handy especially for those who often take shots of anything that comes their way. Filters are also available and you can always choose one with a tap. Also, with this update, you can now directly access your SD card from the gallery which is a lot more convenient than before.
Small Apps Added. Multi-tasking on an ICS Android tablet is made easy on Sony Tablet S as the company added considerably small and light apps you can launch without closing the app you are currently using. The best example is the native small calculator that will popup over anything and you can also set aside after use. Other exclusive small apps added by Sony are browser and remote control.
New Home Screen Actions Added. Creating folders on the Home Screen was also made easier this time. You can drag icons together and automatically Sony Tablet S will create folder to contain the icons. But it does not stop there because you can also add names to the newly-created folders.
Enhanced Web Browser. You will now have an option to choose whether to view a website in mobile or desktop views. For sure you know the difference between these two. Also, you can save the pages you browsed so that you can always view them even if you are not connected to the internet.
Screenshot Capture Made Easier. To take screenshots, just press the Power and Volume Down buttons. Pictures will be saved to your SD card. Speaking of which, this update will allow you to have direct access over your files in your SD card.
You should have known the features Android 4.0 Ice Cream Sandwich. While the stock operating system already offers tons of cool features and enhancements, more often manufacturers add their own features while tweaking some settings a bit to squeeze more juice from an already powerful OS. This is actually what Sony did for Sony Tablet S Android 4.0 ICS update. In truth, people are more attracted to the custom settings added by respective manufacturers because basically they are tailor-made to provide better service to the owners.

You Might Also Like :