Another alleged Samsung Galaxy S3 leaked photo surfaces today. While it shows it's legit to have been taken from a phone the physical features seem to have drifted away from what we already know. And just today, another rumor popped up. This time it's a messenger of bad news as it tells of the possibility that Samsung Galaxy S3 will not be coming to the United States with Samsung's Exynos quad-core central processing unit (CPU). Instead, the rumor suggested that it may just come with Qualcomm's dual-core chipset which could be a big turnoff especially for people who have been intently waiting for the release of this device. I mean, come on! After all the hype that Galaxy S3 will be the next big thing, it will turn out to be just another dual-core device around the corner. A lot of people would surely be disappointed.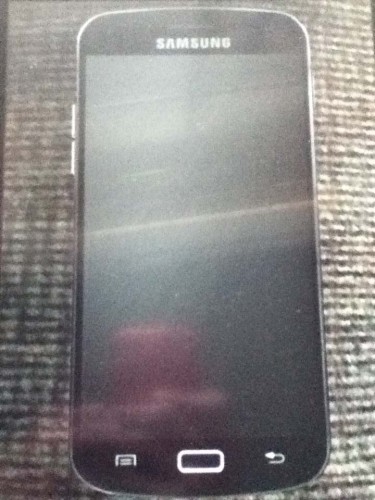 Now about this most recent leaked photo, it defies almost all that we know so far about Samsung Galaxy S3 as far as physical attributes are concerned. A mobile blog known as Know Your Mobile claimed that a tipster sent this photo over without specs or other information we sometimes look for when we see some new handsets. But anyway, let's try to take a look closer into it and criticize what we think is wrong with it.
The first noticeable attribute is the volume rocker. It protrudes and actually claims generous amount of space from the side when it should be hidden somewhere along the lining of the chassis. If this is the real photo or appearance of Samsung Galaxy S3, it would surely be a shame to have a noticeable volume rocker like that. Try to look a little closer at Samsung Galaxy S2, can you see any protrusion from the volume rocker? Absolutely not. If you have noticed, Samsung is quite subtle when it comes to physical attributes. It wants to surprise people with its design and having to see a considerably protruded volume rocker like that, we can have a big laugh over it.
Another thing you can immediately notice are the two capacitive buttons and a physical home button. I don't say that Samsung Galaxy S3 will not be having these buttons but then again, Samsung wants it subtle. For the second time I would say try to compare it with Galaxy S2 and you'll know that these buttons don't have to be catchy because basically if Samsung could build a button-less device, it surely would just to deliver more minimalist, simple but professional-looking devices.
This photo doesn't just exhibit what Samsung really wants for its newest flagship this year. So, we can conclude that this is yet another bogus photo that have been spread online claiming what they are not. May 3rd is near enough for us to believe with other unofficial sources. Let's wait for the official launching of the device. That time, we can assure that all the information we hear and photos we see are real. So wait 'til then and avoid believing in some tipster.

You Might Also Like :