The last time that we covered RIM's 2012 BlackBerry Line-up, we did tell you that there will be two new BlackBerry Curves. The first one will be called as the BlackBerry Curve 9220 while the other will be referred to as the BlackBerry Curve 9320. We also learned that both phones will be made available in the global market sometime within mid-2012.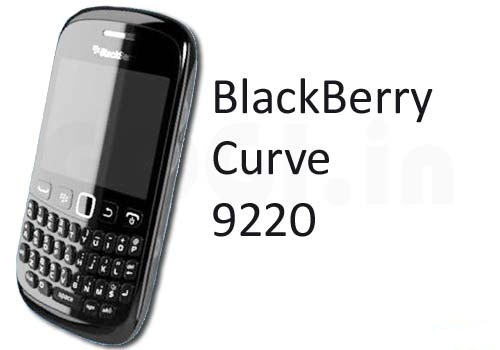 But guess what? Thanks to Flipkart, an Indian mobile retailer, we have come to learn more about the BlackBerry Curve 9220. The phone's price and official date of release remains undisclosed but the Flipkart listing did place a 'Coming Soon' label which could serve as a hint that the said handset will soon be made available in India. To date, none can really predict the phone's specific date of launch but there are speculations that it will hit the store shelves next month. Even so, we would like you to keep these details with a grain of salt.
In addition, the listing that revealed the upcoming availability of the BlackBerry Curve 9220 also exposed the phone's full list of features and specifications. Plus, there's an actual photo of what is said to be the BB Curve 9220. As expected, the said phone will run on RIM's BlackBerry OS and it will sport its physical QWERTY keypad with dedicated buttons for easy navigation. Keep in mind that we cannot really confirm the authenticity of these specifications as we are still waiting for RIM's official word of confirmation.
Anyways, those who are interested in getting the BlackBerry Curve 9220 should not expect to get a high-end phone. The truth is, the phone will only be equipped with decent specs that you can eventually use to establish a connection. It's basically ideal for those who aren't into mobile gaming and can afford to skip a day without doodling on their applications. That being said, the BlackBerry Curve 9220 will flaunt its 2.44 inch TFT display with 65K colors, 320 x 240 pixels of full screen resolution, touch-sensitive optical trackpad, polyphonic and mp3 ringtones, loudspeaker, 3.5mm headphone jack, up to 32GB of micro SD card storage, 512MB of ROM, 512MB of RAM, Wi-Fi 802.11 b/g/n, Bluetooth 2.1 with A2DP, micro USB 2.0, 2 mega pixel rear facing camera, HTML Browser, Stereo FM Radio with RDS, Document Viewer, Pushmail, Accelerometer, Proximity Sensor, Digital Compass, Instant Messaging, Predictive Text Input, Voice Input, standard Li-ion battery, video player and music player. The phone will not be equipped with any front facing camera.
With all honestly, we are not too amazed with the specs and features of the BlackBerry Curve 9220. Come to think of it, 2012 is the year of quad core handsets. RIM could've exerted more effort. It's not like we're expecting much from its new models of BlackBerry Curves but it should at least consider the fact that we want a bang for our buck and we don't exactly need a new phone with outdated specifications. We just hope that this handset would be sold for a very affordable price. That way, it could still attract the attention of those who are very much loyal to BlackBerry Curve.