After the long wait, the third-generation of iPad 'aka the new iPad' has been officially announced by Apple. As a matter of fact, it will be made available tomorrow thru Apple's accredited retail stores. If you are one of the many who are currently planning to get a new high-end slate, it is very likely that you have already set your eyes upon the new iPad. But that doesn't mean that you will limit your options. You see, it would be nice to have a couple of tablet choices since you will be able to weigh the advantages and the disadvantages of each slate. Plus, you will have the chance to determine which one is the better tablet that will fit your needs and your budget.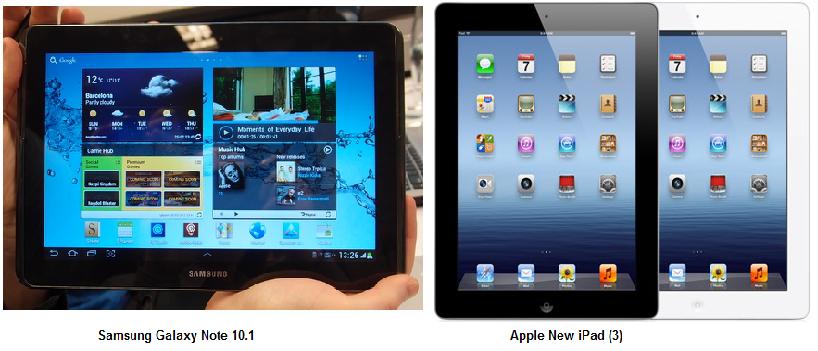 In the case of Apple's new iPad, you cannot just compare it with slates that seem to be beyond its standards. You will need to think of high-end tablets that can somewhat go head-to-head with its features and specs. As for those who missed our previous posts, we did make a comparison between the New iPad 3 and the Asus Transformer Prime. We even compared the slate to its predecessor, the iPad 2. This time, we will be comparing the slate against one of Samsung's impressive tablets – the Samsung Galaxy Note 10.1. If you want to know more about the details of this interesting tablet comparison, better read on.
APPEARANCE
Appearance is one of the most important things that you need to consider before buying a tablet. Some may say that it's the tablet's performance that matters most but come to think of it, the overall look of your slate will make you feel proud and even more comfortable. After all, it's a plus factor.
And speaking of which, both slates can take pride of their classy-looking form factors. The new iPad may look a lot like the iPad 2 but we can definitely say that the tablet's design looks very neat, sleek and solid. Do keep in mind that the slate has been made a bit thicker (9.4mm) and heavier (652 grams) than its predecessor. It flaunts its anodised aluminum back that's been paired with well-proportioned bezel. The new iPad comes in White and Black.
The Samsung Galaxy Note 10.1, on the other hand, flaunts its 8.9mm slim body that's obviously slimmer than the new iPad. The tablet has an average weight of 583 grams and you can choose between its glossy white and chequered grey colors. You can also notice that the slate's orientation is quite different with the new iPad. It's been set on landscape while the Apple slate has been set on portrait mode.
DISPLAY & SCREEN RESOLUTION
The 10.1 inch PLS TFT capacitive touchscreen display of the Samsung Galaxy Note 10.1 may be larger than the 9.7 inch LED-Backlit IPS TFT Display of the new iPad. But when it comes to the quality of images and full screen resolution, the 800 x 1280 pixels screen of the Note 10.1 won't be able to win against the resolutionary Retina Display of the new iPad that could as high as 2048 x 1536 pixels in screen resolution. That's even better than an HDTV! Thus, if you are fond of watching HD movies and hardcore mobile games, the new iPad can give you the ultimate viewing experience that you can never ever get from other slates.
OPERATING SYSTEM
Comparing the new iPad against the Samsung Galaxy Note 10.1 is like comparing the Apple iOS 5.1 with Google's famous Android 4.0 ICS. Oh well, both are really great slates with unique features but it can't also be denied that a lot are in favour of the new iPad's fluid and user-friendly interface. The Android Ice Cream Sandwich OS on the Galaxy Note 10.1 is also packed with features like Resizable Widgets, Improved Text Input, Improved Camera Interface, etc.
We can say that both slates are very good when it comes to OS. You will just need to find the one that you think will suit you best.
MEMORY, STORAGE & PERFORMANCE
Performance wise, the Samsung Galaxy Note 10.1 relies on its 1.4GHz Dual Core Processor while the new iPad relies on its custom designed A5X dual core processor. Now, you might say that both are equal since both are powered with dual cores. Well, not really. According to Apple, the A5X chip that powers the new iPad is four times faster than the Nvidia Tegra 3 quad core processor. Given the fact that the Samsung Galaxy Note 10.1 isn't a quad core slate, you will basically get the idea that the new iPad is a way better when it comes to responsiveness and fluidity of motions.
In the aspect of memory and storage, both are equipped with 1GB of RAM. Also, you can freely choose among their three storage options – 16GB, 32GB and 64GB. The only thing that's lacking with the Apple slate is the support for external storage. If you want to have some more space for your unused files, you can opt for the Samsung Galaxy Note 10.1 since it can provide you with up to 32GB of external storage that will be saved via micro SD card.
CAMERA
When it comes to slates, we do think that the quality of front facing cameras should be prioritized over the quality of the rear facing snapper. Why? That's because tablets are often used for video calls and not for taking photos. Still, that would depend upon how you use your slate. And if you do want a tablet that you can readily use for face-to-face chats, better opt for the 2MP front facing camera that you can get from the Galaxy Note 10.1. The new iPad may have its FaceTime but you will still get a VGA-quality image.
As for those who are fond of taking photos, better get the new iPad since it can provide you with a decent 5 mega pixel rear facing iSight camera that can record videos in 1080p HD resolution. The Samsung Galaxy Note, on the other hand, sports its 3.15 mega pixel rear facing shooter with auto focus and LED flash.
CONNECTIVITY
For those who are always on the go, better get the Wi-Fi + 4G model of the new iPad. That's because you will be getting a slate with a built-in support for 4G LTE that can let you surf the web at blazing-fast speeds in the absence of a stable Wi-Fi connectivity. But, if you're not really attracted with 4G and you can manage with Wi-Fi only, you can have the Samsung Galaxy Note 10.1 with GSM and 3G HSDPA. Yes, that's right. The latter has a built-in support for SMS, MMS and GSM voice communication. The slate will also be packed with Bluetooth 3.0 with A2DP and USB 2.0.
BATTERY
Not much of a competition here. Both slates are equipped with long-lasting and sturdy batteries. Apple claims that the iPad 3's 42.5 Wh standard Li-Po battery can last for at least 10 hours and we do think that the Samsung Galaxy Note 10.1's power cell can also do the same. Maybe, a bit less (like 9 hours) but that's more than enough to give you the chance to fully enjoy your tablet activities.
PRICE
Right now, the Samsung Galaxy Note 10.1 is yet to be making its way in the tablet market while the new iPad will be out tomorrow, March 16th, for a starting price of $499. The former is set to be released sometime within the second quarter of this year and is believed to be more expensive than the Samsung Galaxy Tab 10.1. What does that mean? Well, there could be a possibility that its Wi-Fi only version will be sold for a starting price of $500 to $600. If that's really the case, then it will cost much higher than the new iPad.
CONCLUSION
As we've said, it is very important that you know the reason why you'll be getting a slate. Knowing what you will do with your tablet is an essential aspect of deciding whether to get a slate with a very superb screen over a slate that can make you doodle. Between the new iPad and the Samsung Galaxy Note 10.1, we can say that the iPad 3 wins over the Note 10.1 when it comes to screen resolution and performance. And if the latter will really be sold for a much higher price than the new iPad, then you will need to think if you can manage to give up the Samsung slate's precious S-pen over the iPad 3's Retina Display.
Wait. Did we say S-Pen? Yes, we did. We almost forgot to tell you this but the Samsung Galaxy Note 10.1 will make use of its unique S-Pen technology that will basically allow you to free your mind and be creative. The accuracy of the stylus pen in the Note tablet is pretty much accurate than merely using your fingers when drawing. Still, that won't change the fact that the new iPad has the advantage over the Samsung Galaxy Note 10.1.
It's just a matter of weighing what's more important, the S-Pen of the Samsung Galaxy Note tablet or the Retina Display of the third-gen Apple iPad? Then ask yourself, would you be willing to pay for more just to doodle on your tablet? The answer lies upon you. As for us, we'd go for both.