Images indicating a BlackBerry PlayBook with 4G connectivity have surfaced just recently causing a stir in the BlackBerry Community considering it is the first ever photos showing 4G on BB PlayBook. But actually, all the reports about PlayBook 4G originated from a single user down at CrackBerry forums claiming he has this device. Fellow users were skeptical at first and asked for some screenshots and the alleged owner provided.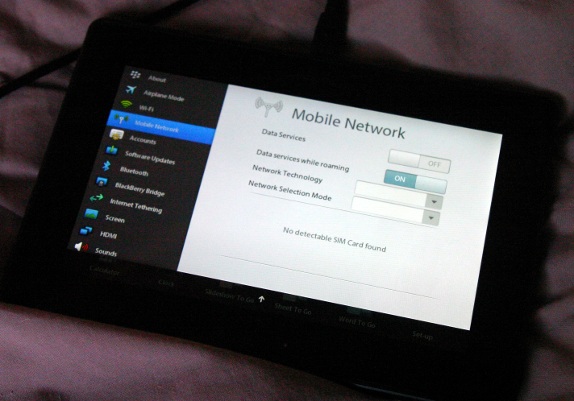 The photo didn't actually show PlayBook with 4G in action, it was only the main unit with a SIM card tray. The user was simply telling his unit has 4G but didn't have a SIM card to try out the service. A screenshot of the Mobile Network Settings was also provide but didn't actually also show a 4G option selected. We cannot really support such claim for now, although we are positive 4G will be coming to BB PlayBook.
Last year, Sprint already dropped their plans in offering WiMax version of PlayBook in lieu of 4G version. Research In Motion (RIM) also confirmed that they will be releasing 3G/HSPA+ and 4G versions of PlayBook and 2012 is the most competitive year. So, we are thinking RIM will actually be releasing 4G version this year and the best time to do so is always in the second quarter. Just last month, we have also spotted HSPA+ and LTE version of PlayBook at the Federal Communications Commission (FCC) for testing.
There is actually some truth behind the rumors of PlayBook 4G and we are positive RIM will be releasing it later this month or early in May. The photos that surfaced claiming to be the 4G version of BlackBerry PlayBook are still questionable. Besides, they looked like the model used was of earlier built. While we know there couldn't much of a difference as far as the physical aspect is concerned, but we're hoping RIM would consider giving it a little twist.