It was last week that we told you about that leaked BlackBerry Roadmap for the year 2012. The roadmap showcased of some of RIM's upcoming devices. Two of which will be part of Research in Motion's ever-growing line of BlackBerry Curve handsets. Guess what? It seems that the leaked details shown in the roadmap were correct.
From what we have recently heard, the two BlackBerry Curve handsets will be made available sometime within this year. There's no particular date of availability but there have been reports stating that both handsets will be equipped with entry-level specs.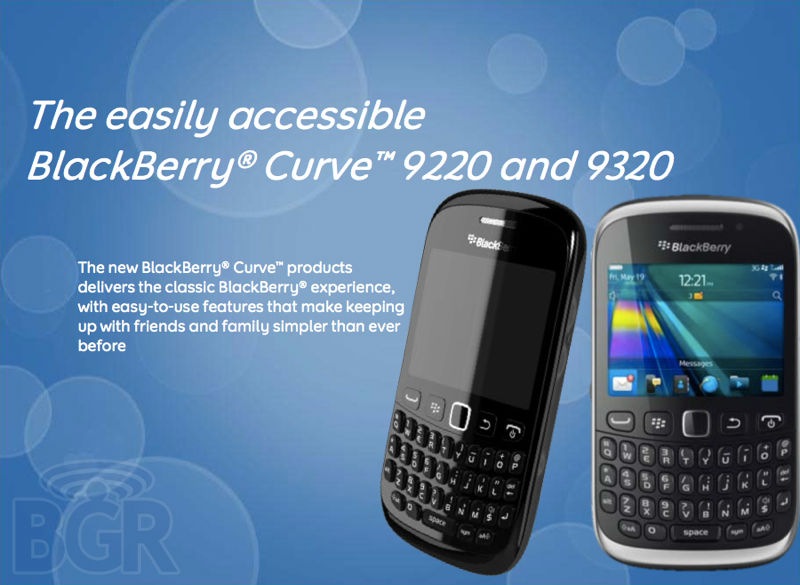 Dubbed as the BlackBerry Curve 9320, the mobile device will be flaunting its 2.44 inch qVGA display that will go alongside with its 3.2 mega pixel rear facing camera, Wi-Fi, Bluetooth, FM Radio, GPS, Accelerometer, Magnetometer, Proximity Sensor, up to 32GB of micro SD card storage, 512MB of RAM, physical QWERTY keyboard and optical trackpad. The phone will have a built-in support for HSDPA 7.2 and HSUPA 5.76. It will be offered as a quad band device that can connect via GSM/GPRS/EDGE 850/900/1800/1900. The price of the handset wasn't revealed but it seems that it will only be made available at selected countries in Asia and East Africa.
The BlackBerry Curve 9220, on the other hand, will be offered as a 2.44 inch handset with qVGA display and a full screen resolution of 320 x 240 pixels. In addition, the phone will also be equipped with 2MP rear camera with Fixed Focus and 5x Digital Zoom, physical QWERTY keypad, optical trackpad, 512MB of RAM, up to 32GB of uSD card, Wi-Fi 802.11 b/g/n, Bluetooth, Digital Compass, Accelerometer, Proximity Sensors and FM Radio. Just like the Curve 9320, the phone's price remains to be told.
Do keep in mind that these leaked specs are yet to confirmed. And despite of the fact that there are lots of budget-friendly Android phones in today's market, those who are loyal to RIM will still opt for the newer versions of BlackBerry Curve.

You Might Also Like :