Aside from the Xperia NX, Sony announced that it will be launching the next-gen version of the Xperia Acro – the Sony Xperia Acro HD. Just don't get your hopes too high. That's because this Android phone will be exclusively released for the Japanese market.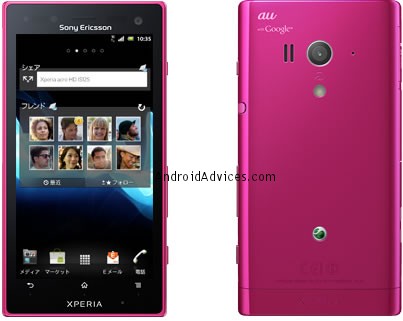 That being said, the Sony Xperia Acro HD will be made available via KDDI and NTT Docomo. The latter already announced that it will be carrying the GSM version of the handset. KDDI, on the other hand, followed this announcement stating that it will be offering the CDMA version of the phone sometime within next month. However, the carrier failed to give any specific detail regarding the handset's retail price and date of launch.
Regardless of the network compatibility, the Sony Xperia Acro HD will be offered as a trendy looking handset with exclusive features that can only be used in Japan. Thus, you can expect that the phone will be equipped with Mobile TV and Mobile Wallet (via Felica). It will be released as a 4.3 inch candybar-styled mobile device with Mobile BRAVIA Engine, 1280 x 720 pixels of HD resolution screen, 1.5GHz of Qualcomm Snapdragon S3 MSM8260 Dual Core Processor, Adreno 220 GPU, 1GB of RAM, 12 mega pixel rear facing camera with Exmor R Sensor and Fastest Capture, 1.3 mega pixel front facing camera with 720p HD video recording, GLONASS-capable, 1840 mAh battery and micro SD card slot.
In addition, the smartphone will be powered by Google's Android 2.3 Gingerbread OS and will weigh no less than 149 grams. It's also very typical for this handset to be housed in a waterproof/dustproof shell that's IP57 certified. That means you can probably splash a bit of water on its screen.
Lucky are those who are currently taking their vacations in Japan for they can easily avail the new Sony Xperia Acro HD.
[Via Android Advices]