We have already heard about the rumors that Apple would be using Intel's chips for its next generation MacBook Pro and iMac since 2011. I thought such rumors would be confirmed late this year but as early as today, GeekBench confirmed through a benchmark entry that Apple is almost ready to launch it's new computers. The said Canadian website has a history of revealing correct information about the specs and benchmark scores of several products prior to the official announcement of the manufacturers. So, we have a good reason to believe that the scores (dated May 10 and May 13, 2012) showed from GeekBench's database are from the real Apple machines.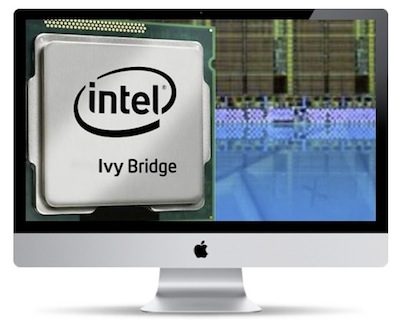 Apple's decision to use Intel Ivy Bridge chips was motivated by the fact that there will be around 10% to 15% boost in overall performance and that seems to be the case here. The information posted by GeekBench on its website dated May 10, 2012 shows 12,183 benchmark score for the new iMac13,2 running on Intel Core i7-3770 clocked at 3.40GHz. The score is way better than the current iMacs which only have 11,500 benchmark scores. I believe the iMac13,2 shown on the website was the 27-inch model running on the powerful quad-core processor.
The Intel Core i7-3770 sports 4 cores and each of them runs 2 threads at the same time. Thus, it is apparent this CPU could run 8 threads at the same time making it very useful for processes that require hyper-threading like extensive video and photo editing. In the same information sheet, it was shown that iMac13,2 will be sporting 4GB of RAM while operating on Mac OS X 10.8 (Build 12A2040). So, basically we are looking at a very powerful machine from Apple which would become the fiercest rival of any Windows desktop computers.
Another benchmark result was shown on GeekBench's website dated May 13, 2012. This time it's the MacBookPro9,1 which is still running on Intel's Ivy Bridge chip and achieved 12,252 score which is way higher than the scores of the current MacBooks. MacBookPro9,1 is running on Intel Core i7-3820QM clocked at 2.70 GHz. While the clockspeed is lower than that of the chip used in iMac13,2 it has doubled the RAM (8GB) so it has achieved a higher score than the previous.
This is going to be very difficult to beat by any Windows laptop available in the market or the ones that are about to be released. Considering the reputation of Apple when it comes to building high-quality computers and really cool operating system, we can expect that these products would soon dominate both the desktop and laptop markets. Apparently, the use of Intel's chipsets brought very impressive results to the already powerful brands and products. For the past two years we've seen how dual-core computers battled over dominance in the market, this year we will be seeing how quad-cores clash while trying to put their competitors down. But the thing is, Apple has never lost a fight with Windows and the latter won't admit being underdog, so we can expect a heated competition this year.