We haven't heard much about Alcatel but the French mobile maker did flaunt some of its newest handsets at the 2012 MWC. As a matter of fact, we have already told you about the OneTouch 991 Play. This time, we are going to reveal the specs and features of the Alcatel OneTouch Ultra 995. Just don't get your hopes too high.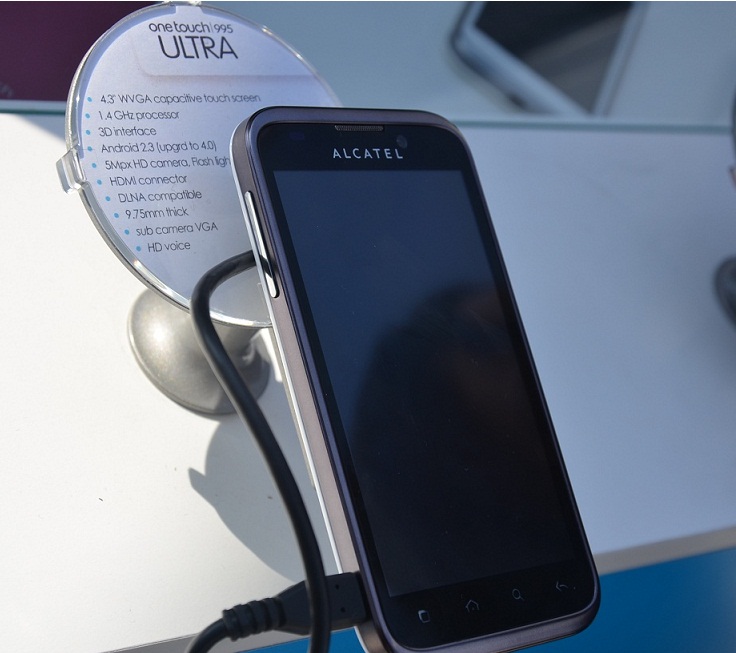 With Alcatel's OneTouch Ultra 995, you'll be able to get a decent-looking smartphone. Apparently, Alcatel wants to market the Ultra 995 as a high-end smartphone but we doubt that it would be able to compete with today's quad core and ICS-powered phones. You see, the OneTouch Ultra 995 can't even provide you with a dual core processor. Instead, you'll have no choice but to rely on its single core Qualcomm processor that has been clocked at 1.4GHz. The phone's chipset may not be as powerful as the HTC One X but it can definitely allow you to download and install your favorite apps from the Android Market. You can even play your games and browse through the web.
Apart from the aforesaid specs, the smartphone can also take pride of its 4.3 inch WVGA capacitive touchscreen with an unspecified full screen resolution, 1GB RAM, 3D interface, HD voice, DLNA, HDMI connectivity, Bluetooth, Wi-Fi and GPS support. You'll also be able to take advantage of the phone's built-in 5 mega pixel rear facing camera that you can use to take a bunch of self-portrait stills and 720p HD quality videos. As for those who are quite fond of face-to-face chats, you can make use of the phone's front facing VGA camera.
Right now, the OneTouch Ultra 995 runs on Android 2.3 Gingerbread but Alcatel did promise that it will upgrade the handset's firmware to Android Ice Cream Sandwich version 4.0. We do not know when that will be though. We'll just have to wait until the smartphone gets officially launched.

You Might Also Like :