Just recently, Google made a huge bump to Gmail by bringing in a message translator allowing users to translate messages to other language if they like. Google Translate has always been a helpful service to most of the users making it the most used translator on the web today. So basically Gmail users will automatically be able to use the translator right from their inbox and therefore, it is a lot more convenient than to copy and paste text into the Google Translate page.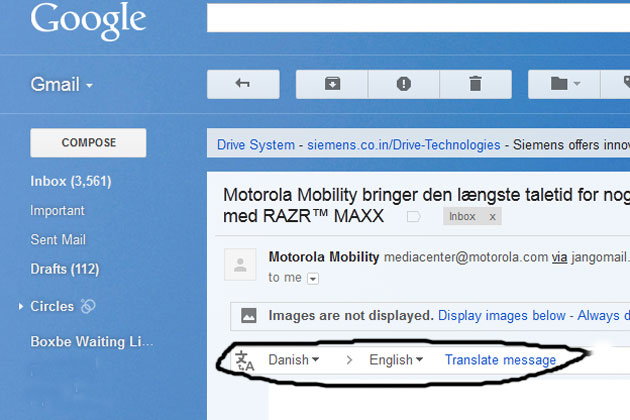 This service could become the most popular service Google could ever offer to Gmail users especially in non-English-speaking countries. Other bloggers may also be able to take advantage of this service especially the ones who get updates from other non-English blogs or publishers. News writers often subscribe to websites even if it's in different language just to be able to get updates before others do. This method could be one of the many reasons why Google had to bring the translation service into Gmail.
How To Enable Google Translate On Gmail
If you are going to check your inbox now, probably you will not be able to find the translate option anywhere on the page basically because you need to enable it. But you have to make sure you are using the standard view because it will not work on Basic HTML view.
Step 1: Open your Gmail account on a browser by pointing to mail.google.com.
Step 2: Click on the small arrow (Down) button just beside the gear icon on the upper-right hand portion of the screen.
Step 3: Click Settings.
Step 4: Click on the Labs tab and look for Message Translation option among the list.
Step 5: Select the Enable option on the right and scroll down to look for Save Changes button.
And that's it! You will now be able to translate foreign language into English or any language you want. You now don't need to copy and paste the text to any translator engine just to be able to understand the words because your inbox could be the best translator you get. With the development of Google Translate going better and better, I am wondering if Google would also bring it to its GTalk service. After all, it belongs to the same category in communication. But anyway, if it is your first time tweaking something inside your Gmail account, then at least you know now that there are other options available for you in Google Labs. All of them are free and you can use them any time.