Even if it is still unconfirmed, the Samsung Galaxy S3 is truly making a buzz in the tech world. As a matter of fact, there were lots of reports and rumors stating that the said smartphone will be packed with impressive specs that are far better than the Samsung Galaxy S2. Thus, in this post, we will be making a comparison between these two powerful Samsung Android handsets to see if the Galaxy S3 will really be able to surpass the power that the Galaxy S2 currently possesses. Do keep in mind that it's been almost a year since the second generation Galaxy S was officially launched. It's about time for Samsung to release a worthy successor and we do hope that the Samsung Galaxy S3 can make that epic stand.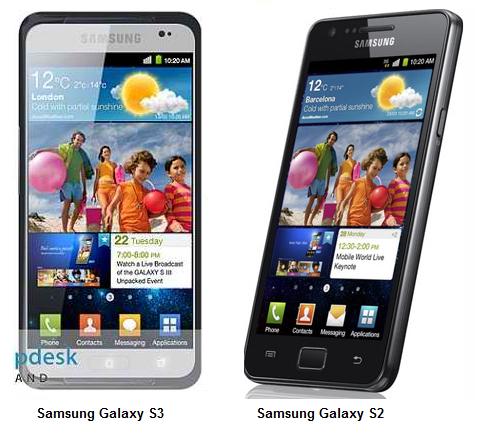 Again, we would like to repeat that this post will aim to compare the features and specifications of these two Samsung smartphones. We also would like to stress that the specs of the Samsung Galaxy S3 are tentative and there's a great possibility for these specs to be changed once the phone gets officially launched. What we have right now have been pulled out from leaks and rumors. Even so, we won't be surprised if the third generation Samsung Galaxy S will be packed with similar features and specifications.
FORM FACTOR
Appearance wise, the Samsung Galaxy S3 appears to be slimmer than the Samsung Galaxy S2. It flaunts its 8mm form factor and it weighs around 126 grams. The phone is a bit heavier than its previous version since the latter only weighs around 166 grams. And if we base our judgement upon the phone's leaked press shot, we could say that the overall look and feel of the Samsung Galaxy S3 is less appealing than that of the Samsung Galaxy S2. You see, the new phone flaunts a bumper. We do not really know if this sort of thing would appear in the phone's final model but it seems like the bumper will be used to protect the fragile sides of the handset. It can also be noted that the phone's front facing camera will be placed on the upper right corner which is the total opposite of the Samsung Galaxy S2's front snapper. The usual power and volume keys have been placed on the sides and you can also see the Galaxy S3's virtual soft-touch buttons. Still, we prefer the authentic design of the Galaxy S2.
DISPLAY
The 4.7 inch display of the Samsung Galaxy S3 is bigger than the 4.3 inch display of the Samsung Galaxy S2. Some may agree with the saying that the 'bigger the display, the better' while some would still prefer to get a smartphone that can easily be gripped by one hand. But when it comes to quality, it is expected that the one with the higher resolution and clearer images would be superior to the one with low-res images. In the case of these two smartphones, both will be equipped with Super AMOLED screens but the quality of the new version will be set on HD.
To be more specific, the 4.7 inch display on the Samsung Galaxy S3 will be paired with a Super AMOLED HD capacitive touchscreen with 720 x 1280 pixels of full screen resolution. On the other hand, the 4.3 inch Super AMOLED capacitive touchscreen of the Samsung Galaxy S2 can only provide you with 480 x 800 pixels of full screen resolution. It is very apparent that the successor's display is better than its predecessor.
OS & USER INTERFACE

The Samsung Galaxy S2 originally ran on Android 2.3.4 Gingerbread but was eventually upgraded to Android 4.0.3 Ice Cream Sandwich. You really cannot see a lot of change since the firmware has been layered with Samsung's TouchWiz 4.0. As for the Samsung Galaxy S3, it is very expected that it will be running on Android 4.0 Ice Cream Sandwich with a user interface that will also be layered with TouchWiz 4.0. But one of the notable changes that you can anticipate from the smartphone is that it will no longer be equipped with physical buttons. Instead, you will have to fully rely on its soft touch buttons for navigation.
MEMORY, STORAGE & PROCESSOR
Regarding this aspect, we cannot really make a final say since the Samsung Galaxy S3 has not yet been launched but if we base our remarks on the phone's processor, there's no doubt that the new one will be much powerful than its predecessor. We can also say that the Samsung Galaxy S2 can be considered as one of today's most powerful Android handsets. Yet, we cannot really avoid those instances wherein we get to encounter some occasional lags and glitches. As for the third generation Samsung Galaxy S, we expect that it will be much faster especially when it comes to handling HD contents since it will be powered by Samsung's very own 1.5GHz Quad Core Exynos Processor.
When it comes to memory and storage, it appears that nothing will be changed. Just like the Samsung Galaxy S2, the Galaxy S3 will still be packed with 1GB of Memory (RAM). It will also come in two storage options, 16GB and 32GB. In addition, the phone will also be equipped with a built-in micro SD card slot. This slot can be used to save your files via Micro SD card provided that you stick to the maximum limit of 32GB.
FRONT & REAR CAMERAS
One of the main highlights of the Samsung Galaxy S3 would be its beefed-up camera. Unlike the Samsung Galaxy S2 with 8MP rear shooter, the new version will be packed with a rear facing camera with a whopping 12MP sensor. That means you can take photos in higher resolution aside from taking advantage of the phone's usual camera add-ons like auto focus, LED Flash, geo-tagging and image stabilization. Similar to the S2, the S3 will also be capable of recording videos in 1080p HD which is a very nice treat for those who are currently seeking for a very reliable camera phone.
However, the phone's front facing snapper has been downgraded from 2MP to 1.3MP. Still, that's decent enough to see your friend's face via video call. We just hope that Samsung would be able to feature a new camera app that's similar to Apple's FaceTime to enhance the quality of the images that we see when making our usual face-to-face calls.
The front camera of the Galaxy S3 may have been downgraded but we will still choose it over the Samsung Galaxy S2 because of its enhanced rear camera sensor.
CONNECTIVITY
When it comes to connectivity, both phones are capable of connecting via Wi-Fi, Bluetooth and USB 2.0. It's just that the Bluetooth version of the Samsung Galaxy S3 has been upgraded to version 4.0. The Samsung Galaxy S2, on the other hand, still flaunts its high-speed Bluetooth 3.0. Meanwhile, the NFC (Near Field Communication) that was offered as an optional feature of the S2 will become a main component of the S3. Through this, mobile payments and any other kinds of virtual transactions will be made with a breeze. That's if you're living at areas that actively use the technology. But that's not all. The international variant of the Samsung Galaxy S3 will most likely be equipped with a built-in support for 4G LTE which is quite advantageous for those who are living outside the US. No need to opt for a carrier-based variant.
PRICING & AVAILABILITY
Right now, we are still waiting for the Samsung Galaxy S3 to be officially announced. We've been hearing a couple of tentative dates for its unveiling but we haven't heard any word of confirmation from Samsung. There were hints that the next gen Galaxy S phone will be launched next month but we ought to keep our fingers crossed. The phone's price remains unknown but there's a great possibility for it to be sold for a price that's similar to the Galaxy S2. On the other hand, the Samsung Galaxy S2 is currently being offered for $500 to $700.
If there wouldn't be a significant difference between the prices of these two smartphones, it would be best to get the latest version.
CONCLUSION
As a wrap up, we can say that both smartphones are really powerful and can pretty much handle your movies and applications. Both are designed for mobile entertainment and productivity and both can be availed for a very reasonable cost.
If you currently own the Samsung Galaxy S2, better stick to it. You won't get any much difference anyways. That's if you are not really after the 12MP camera boost and the HD display. The quad core processor of the Galaxy S3 may be powerful than the S2's dual core chip but you won't be able to tell the difference unless you're into hardcore mobile gaming or HD movie playback and recording.
As for those who are currently hoping to switch from mid-range to high-end handsets, we recommend that you wait until the Samsung Galaxy S3 gets officially released. Give it a try and see if you will be comfortable with TouchWiz 4.0 and Ice Cream Sandwich.