Are you looking for a sense of thrill and intense gameplay? Then look no further! By just simply browsing through Google Play Store, you can easily find all the best action games that will suite your needs. There is a broad array of apps that you can choose from which can be directly downloaded from the Google Play Store, some requires payment and some are offered free.
Computer games are commonly referred by people as first-person shooting games such as Call of Duty and the likes. Action games are usually big sellers in the market mostly because of its simplicity, straightforward controls and easy to understand backstories. Android devices may not be the best gaming platform, but with the increasing technological advancements in tablets and smartphones, more and more quality action games are becoming available.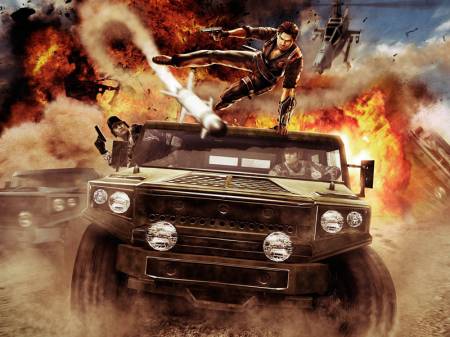 To help you with your query, we came up with a list of the top 10 Free Action Game Apps on Google Play Store that you can download after running through the list.
1. Blood & Glory
The Blood & Glory is one of the most popular action games in the Google Play Store. This game involves PvP battles wherein players challenge each other in an arena, watched by other players as audience, to a battles until death. Another version of this game is the BLOOD & GORE (NR) which can also be downloaded from the Google Play Store. If you are the person who has the strength and courage to go head-to-head with other players, then this game is for you. Packed with impressive HD visuals in the intensive arena battle and swipe & slash gameplay, BLOOD & LORY is truly one addicting action game. Download now and start earning Invictus medals!
2. FRONTLINE COMMANDO
The Frontline Commando had several updates such as new locations, extended campaign and new missions, and new tank enemies. In this game, you are the sole surviving commando of a renegade attach against the ruthless dictator. You will be at the frontline of the war and with your specialized skills you have to survive the massive onslaught of enemies in order to avenge your fallen soldiers. The game has a 3rd person shooter gameplay that features stunning console quality visuals, precise controls, advanced physics and destructible items. Missions include taking down helicopters, jeeps, and heavily defended enemy bases using several frontline artillery such as assault rifles, sniper rifles, shotguns, rocket launchers, med kits, armor, and a lot more. This game is free to play but gamers may opt to pay a certain amount for upgrades and premium weapons that can make the game more exciting.
3. Inotia3: Children of Carnia
Inotia 3: Children of Carnia had several awards last year such the 2nd placer for the Best App Ever Awards – RPG Game and it was also chosen as Google Play's Featured Game of August 2011. This RPG game has proved its popularity with the number of players that it has. In-game, your character Lucio and Amelia faces the challenges of faith as it fights off monsters. This instalment of the Inotia RPG starts with an acquired guntlets that leads the protagonists to embark on an adventure that will fulfil their destiny and will reveal the link between their individual identities. The game features organized party systems wherein you can choose any combination from 6 classes to form the party. These classes can then be further customized by equipping them with unique and powerful weapons and armors. What makes you really hooked with the game is that it has a better and more enormous scale than its predecessor with a story line that is very interesting. There are also over 130 maps that you can explore and over 230 challenging quests to accomplish. Download the Inotia 3: Children of Carnia now and be ready to get glued to your phone for quite a while.
4. Assaulter
Assaulter in more of an arcade action game that is packed with a huge arsenal of weapons upgrades, levels, and great graphics. As the bring fear, suffering, and endless crisis on the world and your role is to stop all the evil works of enemies. This arcade shooting game is very much addicting and will surely entertain you. Download you copy now at play.google.com.
5. Zenonia 4
Zenonia 4: Return of the Legend is the fourth instalment of the game which means that this game truly has a wide audience since it had several sequels. It is an extreme action RPG that features HD graphics. The HD display really complements the visual images and animations when exploring the maps. Combat modes features powerful combo hits and explosive graphical presentation. You can choose from four different hero classes such as Slayer, Blader, Ranger, or Druid which can be equipped with a broad choice of armor, weapons, and items. Users may also play levels in different difficulties like normal, hard, and Hell mode. In addition, PvP modes were further enhanced with 2-on-2 arena battles, 1-on-1 battle, Abyss zone wherein loot drops are more rare items and players can even hire other players data as mercenary.
6. Gun & Blood
Gun & Blood is an action shooting game wherein you will be part of elite anti-terrorist force squad tasked to eliminate all the terrorists. The player will have a wide array of weapons to choose from such as pistols, SMGs, and rifles. This game is for those who are searching for first person PoV games. Though it will come with another search application that will go with the installation which makes the application free, the user can just then delete the search widget on the homescreen and remove the homepage and bookmark on the browser.
7. Wind-up Knight
Wind-up Knight is a high-end 3D action game with 3D side-scrolling adventure gameplay. Your main objective is to get past over 50 levels and rescue the Princess from the evil Black Knight. The game basically is run, jump, roll, and slash game. However, several cool moves were added by the developers such as double jump, wall sliding, dive and roll, among many other moves. New weapons and Armors are unlocked as you progress through the game. Characters are also customizable from the Armory. For those hard-core players, the game also comes with a mega-hard 'knightmare' mode. All levels can be unlocked by paying for the game. However, it is also possible to complete the levels by playing it one level at a time.
8. Zombie Road
Are you still having that thrill of slaying zombies? Zombie Road dwells on a gameplay wherein your road is infested with zombies and you will be in-charge of clearing these streets from zombies. It will require you to carefully manage your money as well as the bullets of weapons in order get pass a level. Money can be used to purchase 17 different types of weapons and restore health. Graphics is impressive and this game can really give you an adrenaline rush as zombies attack you from all sides. This game is very entertaining and you will never get tired of killing those zombies.
9. Hambo
Hambo is an action game wherein Hambo the war hero goes on the quest to rescue his best friend Bacon from enemies and its perpetrators. Hambo makes use of its deadly arsenal to destroy those who go in the way of his noble rescue mission. Gamers can go through 5 mission packs with over 200 action-packed levels that will entertain you for hours. Hambo's looks can also be changed for more than 20 ways which can be unlocked as you progress through levels and can be seen on the in-game store. This game also offers amazing HD graphics.
10. World War
If you are in to MMORPGs, then World War is the perfect Google Play app for you. This massively multiplayer online war game has over 2.8 million players worldwide. The game is set on a futuristic setting which starts in the year 2020 wherein a nuclear war has broken out. Most of the countries have already fallen and only five emerged as superpowers. You can choose among five countries, US, UK, Germany, China, and Russia, and will start of as a general. You will be tasked to defend your base from enemies as you fight your way to be victorious in the World War. Since the game is online, you will be receiving free updates with new missions, units, and buildings. The gameplay features impressive graphics and easy-to-use tap interface.
These action games will surely make you busy in the next hours. Download any action game now at play.google.com. Start shooting those enemies, slay some monsters, go through the levels and be hooked with the interesting backstories of the above said games. Maybe you could leave some comments of the list that we came up with or leave some guides and hints for the following games. Happy gaming!