Can't get enough of Angry Birds? Now's your time to rejoice! Rovio, the game developer behind this ever-popular physics-based game, has official announced the availability of its newest Angry Birds iteration – the Angry Birds Space. Packed with whole new features and levels, the game can now be downloaded and installed on your tablet or smartphone.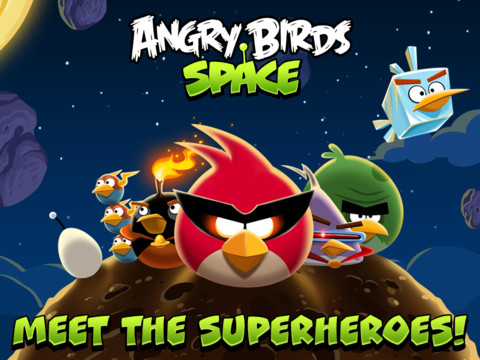 Angry Birds Space is available for iOS, Android, PC and Mac. As usual, you will get a couple of regular updates aside from those in-app purchases and offers. If you do want to try the game, you can get one for your iPhone for $0.99 while those with iPads can get the gaming app for a very affordable price of $2.99. You can download the game at the Apple iTunes Store. Meanwhile, those with Android smartphones and tablets won't need to pay to a dime to be able to play the game. Just go to the Google Play Store (need Android Market) and look for the Angry Birds Space game from Rovio. Do expect that you will be seeing a couple of in-game ads throughout the game course.
Download From Google Play Store
With Angry Birds Space, the birds will be fighting against the hungry green pigs in a whole-new intergalactic scenario. You will be tasked to help the birds by hitting the pigs and make them fall from their platforms. The gameplay is pretty much the same but this time, you will be challenged to complete the game's 60 interstellar levels. You will jump from planet to planet wherein each planet will consist of a different theme that will involve the elements that you can usually see in space. Some of the new features that you can get from the game are as follows: 60 interstellar levels on planets, brand new birds, brand new superpowers, zero-gravity space adventures, trick shots using planets' gravity, hidden bonus levels and beautifully detailed backgrounds.
The game will eventually revolve around the Angry Birds as they chase their eggs that were stolen by a giant claw. They will find themselves floating in a strange new galaxy that's surrounded by space pigs. Using their own superpowers, the birds must fight the space pigs to recover their eggs before they can safely return to Earth.
In addition to the game's interesting plot and thrilling gameplay, Rovio added a treat that can only be availed by those with Samsung Galaxy phones. This exciting new level is called the Danger Zone and it is packed with 30 exciting levels that you can play for free. As for iPhone and iPad users, you can get the Angry Birds Space Dangee Zone levels via in-app purchase. This level can also be downloaded by those with non-Samsung Galaxy Android phones.
We did try playing the game and we're certainly delighted to see the game's vivid graphics that goes along with its superb gameplay. You can pretty much play this game for hours especially at times when you feel like you are bored. If you do want to play the game's other versions, they're still available. Just visit the Apple iTunes Store or the Google Play Store.