Acer recently revealed two new additions to its formidable lineup of tablets; the Acer Iconia W700 11.6 inches and Acer Iconia W510 10.1 inches tablets. The good news is, both these devices will be running on Microsoft's still to be released Windows 8 operating system. We speculate that these slates will actually be released to showcase the new OS and should therefore see the sunlight before Microsoft releases its newest product this year. Basically, these slates will sport as many features as you might think so you will not be disappointed if you are one of the people who are waiting for the release of these tablets.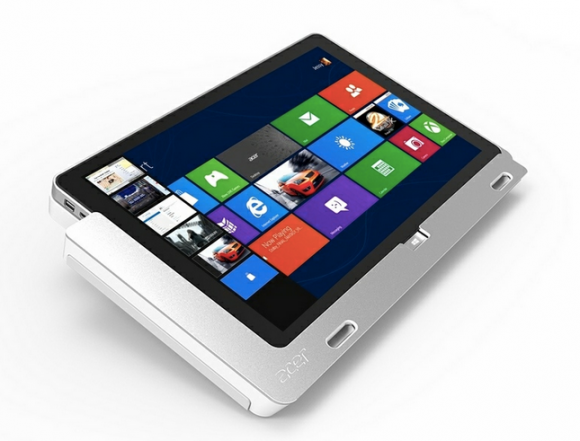 Both of these devices have been announced at Computex in Taipei today, although Acer revealed the features only and not the full specs, price and release dates. But of course, we can speculate about those things after we have taken a look at the each device. So, the 11.6-incher Acer Iconia W700 Windows 8 tablet will sport a full HD display that would support multi-touch as many as 10 fingers at a time. The full HD display features 1920 x 1080 pixels resolution and you can expect really good picture on that. There is no information about the processor just yet but for sure Acer will give this device at least a dual-core system on chip (SOC) to make it as competitive as the other tablets in the market today.
Acer Iconia W510 10.1-incher will still feature a full HD touchscreen but it will come with the In-Panel Switching display technology that offers three different use modes. This models features standard tablet style, docked with its detachable keyboard, and rotated 295 degrees from the dock in "presentation mode" which Acer showed off with a PowerPoint presentation on stage. Acer boasts that even with the keyboard docked on the main unit, you can still be able to use it for 18 straight hours. While the full specs haven't been revealed yet, we can almost be certain that the manufacturer has given this device a fairly large battery or the one with so much power to make this device running for such long hours.
Aside from the fact that it will operate on Windows 8 OS, you will also enjoy the full functionality of a typical tablet with Wi-Fi, Bluetooth, HDMI connection, and the USB 3.0. Loud speakers are also available on both devices but you can also use a headphone with its standard 3.5mm headphone jack. Both will come with 5-megapixel cameras feature auto-focus and front-facing cameras which are of course intended for video chatting or conferencing.
My guess for the price is that Acer Iconia W700 will be marketed between $799 and $999 price range while the Acer Iconia W510 will be on $599 and $799 price range. While the full specs of these devices haven't been revealed yet, we can expect that there's more we can get from these. Add to the excitement your want to be able to know what Windows 8 has in store for us as well as the fact that Acer will never release mediocre devices. Therefore, if we choose either of the two, we will be getting the best that the company has to offer and these devices are more competitive that we think they are.