From budget-friendly laptop computers to high-end tablets, Asus is just one company that can make everything happen in terms of technological advancements. Its latest entry into the high-end tablet market is Asus Tablet 600 which was recently announced and would feature Microsoft's latest operating system, Windows 8. Basically, Asus Tablet 600 serves as the Transformer Pad for Windows 8 platform. We have already seen how good the first Transformer series the company released and while this device has a name nowhere near the popular series, its features, designs and functionalities are just among the determining factors that would push us to believe likewise.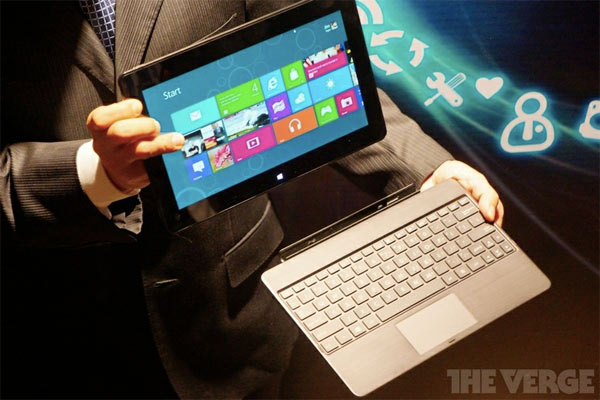 When we try to look into the hardware specs of Asus Tablet 600,  they are pretty much impressive and the first one you would surely appreciate is the fact that it run on Nvidia Tegra 3 processor, a quad-core mobile system of chip (SOC) that has gained popularity and notoriety in the world of technology because of its performance and power. Basically, this new slate from Asus has the muscles it needs to outperform devices that were given mediocre specs but fall on the same category. We have reported about Asus Tablet 810 which sports Intel Atom as its processor, although we really can't compare these two it s safer to assume that people that often look for devices with high specs would always go for a device that comes with Tegra 3 processor than the Atom.
Aside from its powerful processor, Tablet 600 sports a 10.1-inch display using the Super In-Panel Switching (IPS) liquid crystal display (LCD) technology to bring out the best in it. While it does not come with a full HD display just like other high-end tablets available in the market today, Asus Tablet 600 has a fairly high resolution at 1366 x 768 pixels  with multi-touch support. There is no mention as to how many fingers an owner could use to execute commands but based on Asus' other slates, it could support up to 10 fingers. Its rear camera has 8 megapixels with a single LED flash featuring auto-focus just like what other tablets possess. With two 2-megapixel front-facing camera, video conferencing and chatting would be just fine.
As far as connectivity is concerned, Asus Tablet 600 has it all starting from Wi-Fi and Bluetooth. One of the additions to lineup is the support for near-field communication (NFC) allowing the owners to take advantage of the services it offers like the fast tablet-to-tablet data transfer. If there is one downside for this device, that would be the fact that it couldn't run millions of legacy apps designed for Windows on x86 architecture because apparently, this is an ARM-based Windows-operated tablet and there are just shortcomings as far as operations is concerned and that's one of them.
There is no information as to the pricing and availability of Asus Tablet 600 but since it features Windows 8 to be its operating system, then we can expect it to arrive before Microsoft officially releases it's new OS. There have already been several devices that we know would feature the new system and this is one of them.