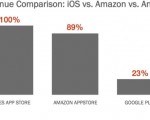 A new study conducted by Flurry, it shows that despite all the hype about Google Play and with all the interests starting to build up on Android owners' mind, Amazon App Store still enjoys a higher revenue earning ...
While the New iPad is starting to build its popularity and reach, there is a new rumor floating on the web right now suggesting that Amazon is planning to release 3 new Kindle Fire tablets in different sizes. While this report ...
Amazon is working on two tablet Pcs an open secret it is. At least one of them is expected to be released this fall. It was anticipated to be the loss leader in terms of price and push Apple out of the market. This is likely ...
At least these are the rumors! As everybody knows, Amazon struck gold with Kindle and recent statistics reveal that in a mature market like the U.S., the e-readers still sell better than tablets. Now, it seems that the famous ...
This year has seen the launch of a number of tablets by various manufacturers. The latest manufacturer to join in the race is Amazon. The device will be an Android powered device. This device is expected to have the same features ...