What phone can possibly beat the massive 41MP camera of the new Nokia 808 Pureview? So far none. That's because most of today's high-end handsets are just packed with 8MP to 12MP cameras. But there's one smartphone that succeeded to defy the norms and it's none other than the HTC Titan II. True to its moniker, the Titan II boasts its 16 mega pixel camera with dual LED flash. It also highlights its large 4.7 inch display and it is packed with features that you can truly depend on.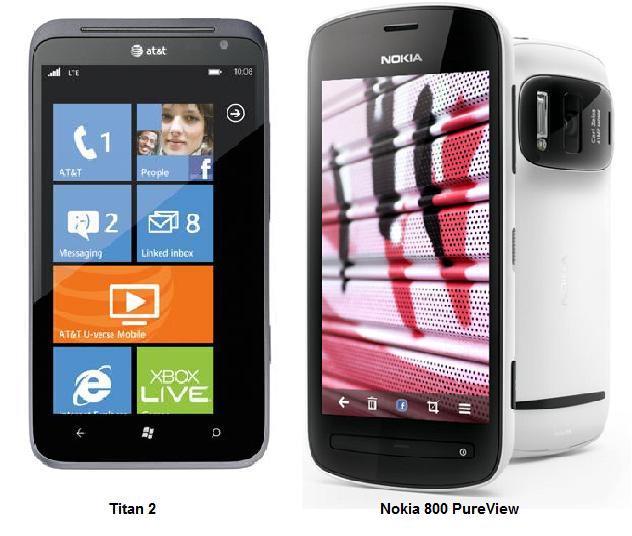 Thus, in this post, we will attempt to compare the specs and features of the Nokia 808 PureView against the specs and features of the HTC Titan II.
APPEARANCE
One of the downsides of having an enormous camera is the additional load of weight in form factor. That being said, the Nokia 808 PureView won't go any lighter than 169 grams. That's a bit bulky especially when being compared to today's slimmest smartphones and you would definitely feel the weight of the phone on your pocket or purse. Moreover, the phone is quite thick with an overall thickness of 14mm. It's not really the slimmest and the sexiest handset that you can get in the market. But you can definitely be assured that it will give you the highest quality photos. Don't worry though. You can still be as stylish as those with svelte phones. It's not too large for your hand to hold and you'll be able to make use of the phone's handy camera shutter button. The Nokia 808 PureView will be made available in Black, White and Red colors.
Meanwhile, the HTC Titan II's titanic build will apparently dwarf a lot of smartphones. It's even larger than the Nokia 808 PureView as it housed in a form factor that won't go any smaller than 69mm x 132mm in width and length. The former currently sits at 60.2mm x 123.9mm. But if you look on the brighter side, the smartphone can provide you with a spacious display which is quite ideal for browsing web pages and viewing videos. It may not be too comfortable to hold but you'll eventually adapt to the phone's uniquely sized form factor. Even so, we recommend that you take a good grip of the phone and flip it on different sides and angles before you make your decision. The HTC Titan II weighs 147 grams and won't go any thicker than 13mm. The phone is obviously lighter and slimmer than the Nokia 808 PureView.
DISPLAY QUALITY
The 4.0 inch AMOLED capacitive touchscreen of the Nokia 808 PureView has been set to give you a good view of your still images in 360 x 640 pixels of full screen resolution with a total pixel density of 184 ppi. The size of the phone's display is large and roomy and can be easily used with a single hand. The colors of the images are quite rich and vivid but still not as impressive especially when being compared to the display quality of today's high-end handsets. Nokia could have increased the resolution of its display.
On the other hand, the HTC Titan II sports a 4.7 inch Super LCD capacitive touchscreen with 480 x 800 pixels of full screen resolution. The phone's screen resolution is a bit higher than the screen resolution of the Nokia 808 PureView and even the pixel density gains the lead at 199 ppi. The spacious screen of the Titan II is ideal for viewing your photos and videos. Even so, we can somehow say that the screen resolution of the smartphone is a bit low compared to the 1280 x 720p resolution of those handsets with similar screen sizes. You won't be able to enjoy the true quality of your HD videos.
USER INTERFACE
Nokia chose to equip the 808 PureView with Symbian Belle. With all honestly, we cannot help but compare the features of the said OS to Android. As a matter of fact, we can somehow say that the Belle OS that powers the 808 PureView has been heavily patterned after Android. It also has its multiple and customizable home screens with a similar notification panel. But if there's thing that's good about Belle, it's the fact that it consumes less RAM and it has the ability to run in less superior configuration.
As for the HTC Titan II, it runs on the latest Windows Phone 7.5 Mango. We seriously adore the Metro Interface of the handset and it blends well with the phone's humongous screen. You will also get a range of pre-installed apps (courtesy of AT&T and HTC). The downside of having a phone with a Windows Phone OS is that you won't be able to indulge yourself with apps. You might find yourself craving for more apps.
HARDWARE, MEMORY AND STORAGE
There have been questions about the 16GB storage of the Nokia 808 PureView. Will it be enough to cater a stack of HD quality photos and videos? Come to think of it, if you set the camera in full, the image output will apparently be sized at approximately 10MB. And even if you use the phone's 32GB of external storage, it wouldn't be enough to cater your files. Well, it's not really necessary for you to set your photos in full resolution (that is 7152 x 5368 pixels). You can just take shots in 800 x 600 pixels and record videos in 720p resolution. So the 16GB storage of the smartphone is quite enough. But you will definitely see the difference in the quality of the photo. It's finer and more precise than the shots of a phone with a 5MP or 8MP camera. Furthermore, the phone's 512MB is also enough since the Belle OS in 808 PureView does not take a lot of RAM. You can also rely on the phone's 1.3GHz single core processor that's been based on the ARM11 architecture. It is very unlikely for you to be worried of frequent glitches and lags.
The HTC Titan II, on the other hand, relies on its 1.5GHz Scorpion Qualcomm S2 Snapdragon processor. Apparently, it's very easy for the phone to perform a couple of basic tasks. You can even take advantage of the phone's integrated Xbox Live app. You can play games and earn points even if you're away from your gaming console. But when it comes to hardcore gaming such as those who are hooked to Need for Speed: Hot Pursuit and other related games, the phone won't run as smooth as those handsets with dual core and quad core processors. In addition, users with media collections might find it a bit difficult to manage their files on the phone's 12GB of storage. It's also a bummer that the phone lacks the needed support for micro SD card.
CAMERA
Apparently, we can say that the strongest asset of the Nokia 808 PureView is its massive 41MP rear camera with Carl Zeiss optics, auto focus and Xenon flash. As a matter of fact, it's because of its camera that the phone won the award for the 'Best New Mobile Handset' at the 2012 Mobile World Congress. When set at full, the smartphone can take a snapshot in 7152 x 5368 pixels of resolution. Furthermore, the camera of the phone uses a revolutionary technology called Oversampling wherein a single pixel will be made out of multiple pixels. And if in case you are still not convinced, you should know that this phone's camera is packed with other stunning features that only those who are well-versed in photography can understand. It's a bit mind-boggling but still it's not that difficult to learn that the 41MP camera of the Nokia 808 PureView can manage to make up to 4x of lossless digital zoom. In addition, videos can be recorded in 1080p which is full HD. And before we forget, you can also make video calls but don't expect too much. The primary camera of the phone may be great but you'll eventually get a VGA quality front facing camera.
The HTC Titan II may do a very good job in the camera department as it is equipped with 16 mega pixel rear facing camera with auto focus, geo-tagging, BSI sensor and dual LED flash. But still, it is no match with the camera of the Nokia 808 PureView. Moreover, the smartphone cannot surpass the former's ability in recording videos as it is only to 720p while the 808 PureView can go up to 1080p. But when it comes to video calls, the output of the Titan II's 1.3MP front facing camera is far better than the PureView's VGA camera.
PRICING AND AVAILABILITY
As of now, the Nokia 808 PureView is yet to be released in the market. But you will eventually be able to pre-order one at Expansys for a noteworthy price of $859.99. As for those who are in UK, you can pre-order the smartphone via Clove for 449 Pounds excluding VAT.
Meanwhile, the HTC Titan II is currently available via AT&T Wireless. It's being offered for $199 provided that you agree to sign up for a new two year contract. If you don't want to be tied up with monthly payables, you can get the phones unlocked version at Negri for a decent price of $649.50.
Price wise, the cost of the HTC Titan II is much cheaper than the cost of the Nokia 808 PureView. But hey, you need to pay for the PureView's value-added features and you can't really expect that it would cost less considering that it is loaded with 41MP camera.
CONCLUSION
There's a reason why you should prefer the Nokia 808 PureView than the HTC Titan II. The price of the PureView may not be as appealing as the price of the Titan II but you will be able to get a very great camera that you can use for taking photos and recording videos. If you are a camera phone buff and you dislike the thought of carrying a bulky DSLR camera on your bag, the Nokia 808 PureView is definitely a must buy. But if you're not too particular with the quality of your images and you just want a camera phone that you can use to take photos to share to your friends on Twitter and Facebook, you might as well get the HTC Titan II. It also costs a bit lesser and you won't have to deplete the load of debit card.
PROs
Nokia 808 PureView – Massive 41MP Camera, 16GB internal storage, 32GB of micro SD card slot, Dolby Digital Plus audio enhancement with Dolby headphones, NFC support, Stereo FM Radio with FM transmitter
HTC Titan II – Thinner and lighter form factor, large 4.7 inch display, 16MP camera, 1.3MP front camera, LTE Connectivity
CONs
Nokia 808 PureView – thicker and heavier form factor, VGA quality camera, low resolution screen, no LTE support
HTC Titan II – low resolution screen, lack of essential apps for Windows Phone OS, no support for micro SD card, 12GB of user-available storage
As for us, we wouldn't mind paying for the Nokia 808 PureView because we would like to have a good quality smartphone that is also capable of taking photos and videos in full HD resolution. We suggest that you compare the image outputs of the two camera phones for you to be able to determine the difference. You will eventually see that the camera of the PureView is truly magnificent.