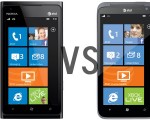 AT&T users in the US are quite lucky for they will be able to choose between the Nokia Lumia 900 and the HTC Titan 2. But if there is one distinctive feature that could separate these two phones from any other mobile ...
AT&T now offers Nokia Lumia 900 and HTC Titan 2 in their stores. For the past couple of months, almost every day Lumia 900 was the content of reports and rumors because it is Nokia's newest flagship this year. Titan ...
Everybody who is expecting for the arrival of Nokia Lumia 900 could have been very excited today as AT&T announced its price and fixed release date. But it seems the company is not done with its announcement yet. Still today, ...
If you're currently looking for a reliable non-Android/non-iOS phone, why not wait until AT&T gets to launch its newest model of Windows Phone handset? After all, you don't really need to wait that long. It has been revealed ...
The CES 2012 held on January 9th saw a lot of intriguing gadgets being reveled. Another phone that made its debut and mark in the CES 2012 was the all new HTC Titan II with LTE packing. This Windows Smartphone is expected to be ...