In a bid to keep its brand in the loop, Korean manufacturer LG announced its new budget-friendly, dual-SIM smartphone, LG Optimus L3 E405. Back in February during the Mobile World Congress 2012, LG announced Optimus L trio but there was never any trace of Optimus L3 E405. Apparently, the manufacturer wants to go for the entry-level market knowing the high-end range is a bit congested and stirred by Samsung with its Galaxy S3 and that there is an incoming iPhone 5 which would soon be released in the third quarter.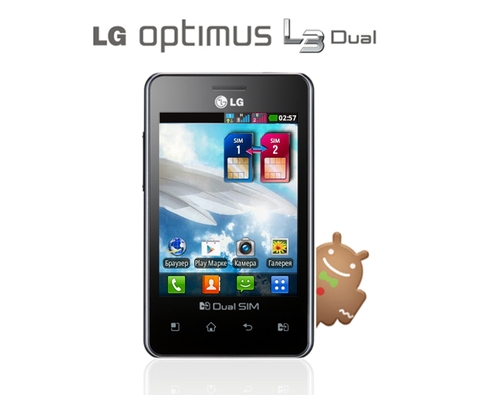 LG Optimus L3 E405 sports Qualcomm 800 MHz processor that will be operated by Android 2.3 Gingerbread. Being a budget-friendly smartphone that it is, it only has 384 MB or random access memory (RAM) paired with 1GB of read-only memory (ROM). While there is nothing special in it, Optimus L3 still has what it takes to be appreciated for the features it brings as well as the usability it offers. For people who might be needing more space to store some data, this device has a microSD slot that supports up to 32 GB or removable storage.
Aside from being a dual-SIM smartphone, LG wants it to be pocket-sized thus giving it a 3.2-inch display. There is also nothing special in its screen as it is using the typical TFT capacitive touchscreen panel featuring 240 x 320 pixels resolution or around 125 ppi pixels density. Such is pretty low but enough to make picture realistic, and yes it supports multitouch. If its display is mediocre, so is the camera which only has 3.15 megapixels that could capture photos as wide as 2048 x 1536 pixels.
When it comes to connectivity, this phone supports GPRS, EDGE and could provide internet connection as fast as 3.6 Mbps, the speed HSDPA can offer at most. Its WLAN supports 802.11 b/g/n Wi-Fi networks and it also has Bluetooth version 3.0. In other words, it has all the necessary hardware to be able to connect to the internet or any networks available. LG also did a good job in giving this handset a powerful batter that could provide power for as long as 12 hours and 30 minutes of straight talk time. Android 2.3 Gingerbread may be stable and could have helped in conserving battery, it seems like a downside considering everybody wants to experience the beauty on Ice Cream Sandwich can offer.
There is no information as to the release date and the exact price this smartphone will be marketed. In fact, LG hasn't officially confirmed or announced it yet, bloggers and tech enthusiasts were able to dig the information from LG Russia's listing. Aside from that, there's no information whatsoever. Rumors have it that LG Optimus L3 E405 will be release in Asia and Europe in July, although this information hasn't also been confirmed yet. But since the listing page wasn't pulled down from LG's official Russian website, we bet this will be announce real soon. And based on LG's practices, announced devices will be released not later than one month since the official announcement date. We speculate this could be released in the second week of July at an apparently budget-friendly price.