Home » Mobile
BlackBerry Porsche Design P'9881 Smartphone Launched in India For INR 1,39,990
Canadian smartphone maker Research In Motion (RIM) is not just trying to capture the typical smartphone market, rather it wants to take the lead in the market where not all manufacturers want to compete. BlackBerry Porsche Design P'9881 was just launched today in India for INR 1,39,990, an apparently premium price for a luxurious, Porsche-themed smartphone with decent specs.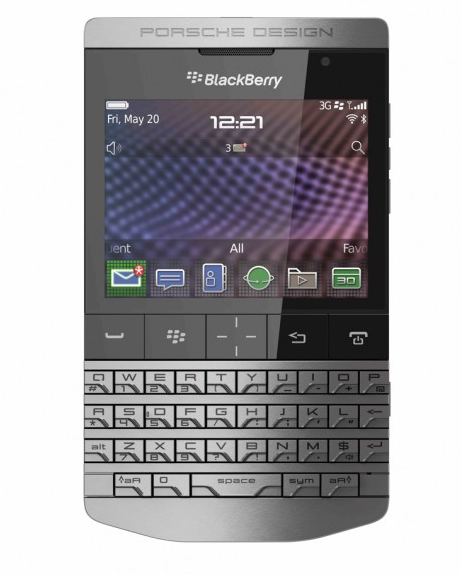 While everybody loves Porsche and its cars, there is no guarantee fans of fast and stylist cars would also love a smartphone bearing the same brand. Sure  BlackBerry Porsche Design P'9881 has what it takes  to be called a 'luxury phone' but the fact that it's going after the Indian market is evident the international model is not really doing as far as competition is concerned.
Tech enthusiasts and smartphone lovers believe that BlackBerry Porsche Design P'9881 is basically a glorified BlackBerry Bold 9900 because both have almost identical specs except for some details. But let's try to see what this device is made of. Let's start with the processor. P'9881 sports Qualcomm MSM8655 Snapdragon clocked at 1.2 GHz. It's a single core CPU that can do better than you think. MSM8655 is well-known for being stable and has very few compatibility issues making it the most likely candidate for devices being targeted at mid-level market as far as specs are concerned. The 1.2GHz CPU is paired with 768MB of random access memory (RAM). Even if RIM has given this device 500MB, it would still be more than enough to cater the needs of this themed smartphone.
Just in case you're wondering why BlackBerry Porsche Design P'9881 sounds familiar, the first of its kind was actually released in December 2011. RIM tried to cram it up for the holidays but it seems like it wasn't successful. In a recent survey, it shows that majority of smartphone lovers want to have a phone with touchscreen capability. More often than not, they tend to look at the gadgets with bigger screen size and lesser buttons; the properties you couldn't just find from any BlackBerry device. This could have affected why RIM is actually losing to its biggest competitors, Apple and Google.
Porsche Design P'9881 has 2.8 inches screen with fairly high resolution at 640 x 480 pixels or around 286ppi. Typically, it comes with full QWERTY keyboard making the screen less than half of the actual size of the device. For people who want to use devices with bigger screens, this device is definitely not an option. However, for Porsche aficionados, it may just make an appeal with its dark color and sleeker keyboard design. P'9881 was inspired by real Porsche cars and that explains why it has better design than any other BlackBerry devices in the market today.
Why did it take 6 months for RIM to offer this device to the Indian market? That's actually the question only RIM could answer. It looks like it will  still be a failure even if it's being offered in the growing tech market. Only a few could actually relate to the Porsche design of this device and that's one of the problems. Nonetheless, BlackBerry Porsche Design P'9881 has what it takes to compete in the market in terms of the specs. But for the price, people might not want to know more about it.