Cupertino-based tech company Apple recently released the second version of its iOS 6 beta for developers in a bid to give its app developers a heads up of what's to come. The second beta version fixes some bugs and most of them are related to keyboard specifically the clicking sound when fast-typing. There has also been an issue where the keyboard would be wrongly positioned when shifting from portrait to landscape and vice versa. The update can be installed over the air but it's a really huge package of 497MB is size for iPad and 299MB for iPhone 4 so depending on the connection, the download may take a little more time than you expect.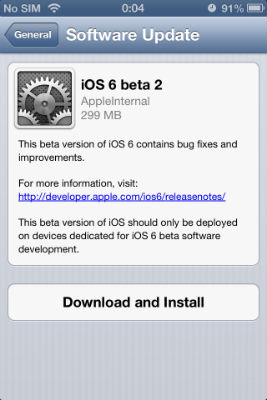 Of course, this update needs iOS 6 beta 1, otherwise owners wouldn't be able to receive notification or install this version. Moreover, only registered Apple developers who would partake in improving iOS would be given access to beta versions and ordinary iOS device owners couldn't receive notifications. Around 9:45 P.M. ET on June 25th, developers were able to receive the update pushed by Apple. A notification window pops up telling them that a new update is ready for download and installation.
9to5mac.com has been tracking the latest improvements and tweaks done to the first version of iOS 6 beta. And basing on its list, the following are the most noticeable changes any developer can find in the second version.
Photo Stream Toggle. According to the site, one of the biggest changes iOS developers could find is the newly-added toggle button for Photo Stream. It's just an On/Off toggle so you can either use Photo Stream functionality or not depending on your preference. The Photo Stream function in iOS devices would automatically upload photos to make them accessible via iCloud devices whenever an internet connection is present.
Twitter for iPhone Icon. While it may a minor change, at least we know what the new Twitter for iPhone icon would look like even before Twitter would actually implement the changes.
New Siri TweetSheet. Inside the Siri user interface, owners can now be able to see that the TweetSheet has been modified to give it a newer and better look.
Reading List Toggle. Before, the only way you can change Reading List option is by going through the settings in Safari browser. The new version of iOS6 revealed that users can now toggle Reading List On or Off through a button in the Cellular Data settings, beneath the iCloud Documents and iTunes buttons.
Expires in July 31st. iH8snow, one of the popular iOS jailbreakers, has discovered that iOS 6 Beta 2 will expire on the last day of July, the day iWork.com will be shut down by Apple.
Guided Access. This feature is now working in beta 2. Its function is to stop the Home button from working and that it locks the device into whatever app it is currently running. It also allows the user to disable any portion of the screen that they don't want others messing with, or disable the touchscreen and motion sensors entirely  while in Guided Access mode.
These are just few of the many changes Apple would want to bring to its latest and most advanced operating system. For sure, there could be more once another version is released hopefully when beta 2 expires. For now, it seems like Apple is going for the kill and the development of this OS may just be done in time iPhone 5 will be released. So stay tuned as we will bring you the latest updates from Apple. As the release date for iPhone 5 nears, you can expect many things would be announced or added to the lineup. But let's wait and see what Apple has in store for us.