Alright! It's about time for the Samsung Galaxy Note to arrive at the US shores. Guess what we've heard? The 5.3 inch phone will be coming to AT&T wireless. Details are scarce but it seems that the handset will be flaunting its four-button controls.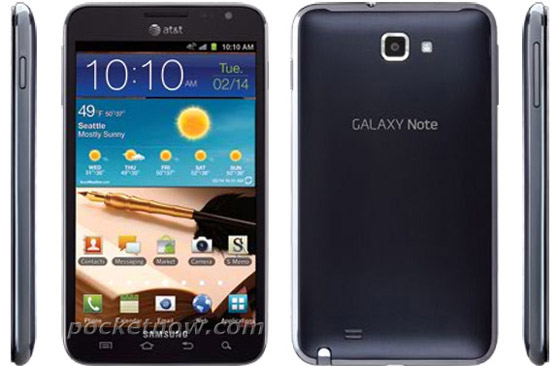 If you have already seen the phone's rendered snap shot, you can easily notice that it goes along with the carrier's customary logo. Recent reports are also stating that the "monster-sized" phone will be part of AT&T's ever-growing family of 4G LTE handsets. On the other hand, Samsung did confirm that it will showcase the Galaxy Note at the 2012 Consumer Electronics Show.
Not too long ago, Samsung released the international version of the Galaxy Note. The phone's 5.3 inch display is quite deceiving though. At first glance, you will eventually think that it's a mini-tablet not a smartphone. That being said, the phone can also be used as a tablet. It is equipped with an S Pen stylus that you can readily use every time you feel like you want to make some notes or doodle on your photos.
Specs wise, the Samsung Galaxy Note can take pride of its WXGA display, 1280 x 800p HD Super AMOLED screen, 1.4GHz Dual Core CPU, Advanced Smart Pen multi input, 8 mega pixels rear facing camera with LED Flash, 1080p of full HD video recording, 2 mega pixels front facing camera, 16GB of internal storage, up to 32GB of expandable storage via micro SD, Bluetooth 3.0 + HS, USB 2.0 HOST, Wi-Fi Direct, Wi-Fi 802.11 b/g/n, 3.5mm ear jack, Stereo FM Radio with RDS, S Memo/S Planner/S Choice apps, Gmail, YouTube and Google Maps. The handset will be powered by Google's Android 2.3 Gingerbread that will be layered by Samsung's TouchWiz panel.
The phone's official date of release for AT&T remains unknown. But we won't be surprised if you'll be required to sign-up for a two-year network subscription.
[Via Talk Android]