Some people may prefer to call the 'new iPad' as the third-generation iPad. But whatever you choose to call it doesn't really matter. What's even more important for you to know is that the tablet is latest addition to Apple's prestige line of evolutionary tablets. With its new features and enhanced functions, this is the time for us to find out whether the new iPad has succeeded in setting a new benchmark for future tablets to follow.
Thus, in this review, we will attempt to evaluate the overall quality of the new iPad (also known as iPad 3) by assessing the most essential elements that must be considered before getting a tablet device. Do expect that we will be squeezing the best juices out of this new Apple slate, pulp by pulp. Not only the best juices, we will also try to provide you with the advantages and disadvantages that we hope could help you decide before getting such.
But before anything else, you should know the things that you'll be getting along with the Apple New iPad. You won't really get any extra treats. Just the tablet itself plus a USB cable, a Wall Charger and a Documentation Guide that you will probably never even touch.
Apple New iPad 3 Features and Specs:
Display: 9.7 inch (diagonal) LED-backlit glossy widescreen Multi-Touch Retina Display with IPS Technology and 2048 x 1536 pixels of full screen resolution, 264ppi with fingerprint-resistant oleophobic coating
Dimensions: 9.50 x 7.31 x 0.37 inches
Weight: 652 grams
Storage: 16GB, 32GB, 64GB
Software: iOS version 5.1
Processor: Custom designed Dual Core Apple A5X chipset
Data Connectivity: Wi-Fi 802.11 a/b/g/n, 4G LTE, Bluetooth 4.0
Camera: 5MP iSight Camera (Rear); VGA-quality FaceTime Camera (Front)
I/O Ports: 3.5mm stereo headphone mini-jack, built-in speaker, microphone
Battery: 42.5Wh rechargeable Lithium-polymer battery; lasts up to 10 hours
DESIGN
Overall Remark: Nothing quite remarkable. The new iPad's design is pretty much the same as the iPad 2 aka second generation iPad.
If you're quite familiar with the design of the second generation iPad (iPad 2), then you will apparently notice the great similarity between the two. Apple did not exert much effort in transforming the tablet's looks. It's still wrapped in its classic aluminum casing with oleophobic display coating. Just like the previous iPad, the new iPad cannot be easily damaged by scratches and dusts. Besides, it looks pretty solid. It can be gripped by one hand (preferably for FaceTime moments) but it's still in its best when being handled with two hands. The Apple tablet may not come with a keyboard docking station but you can pretty much rely on its virtual keyboard.
Another thing that should be noted with the new iPad is the fact it's a bit heavier and thicker than its previous version. In order to give way for its new features, it seems that Apple did not have any other choice but to give more space for its internal parts. Still, with frequent use, the slight increase in tablet's weight and depth won't be too noticeable. But if you're the type who's a bit strict with numbers, the iPad 3 sports an overall depth of 0.37 inches with a weight that doesn't go any heavier than 652 grams. Apple's new iPad may not be the thinnest tablet in the market (since the credit goes to Toshiba's Excite X10) but it's portable enough to be tucked inside your suitcase or bag.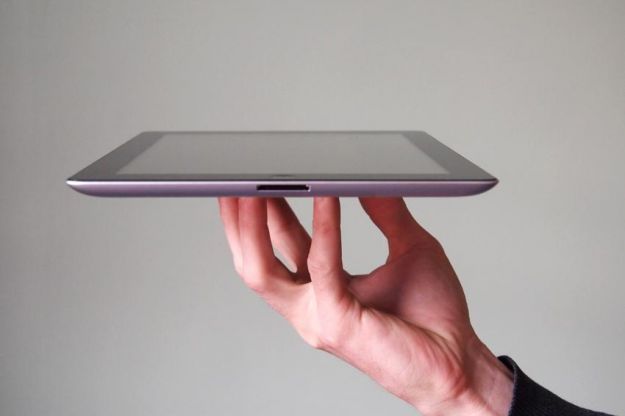 DISPLAY
Overall Remark: Superb quality - produces very fine images with great resolution.
Doubling the iPad 2's screen resolution, the new iPad can definitely take pride of its 9.7 inch LED-backlit glossy widescreen Multi-Touch Retina Display with IPS Technology. That may not seem to be impressive as we know that you have already seen a lot of tablets with high-res displays. But, mind you, the iPad 3 boasts its superb quality display with 2048 x 1536 pixels of full screen resolution. As of the moment, only the new iPad can give you the best tablet viewing experience. You won't even see any grains in its screen as it is almost close to perfection. The icons and images are very fine especially when compared to other slates.
We do think that this is the best improvement that the new iPad can flaunt. If you are fond of reading for long hours and you like watching a lot of HD videos, the third generation slate is the one for you. Moreover, the images are very vivid. It's far even better than today's high-definition TVs and monitors. We commend Apple for this very brilliant move which will eventually open the door of opportunity for others to think of better ways to cope up with the competition.
OPERATING SYSTEM
Overall Remark: Fluid and highly responsive, simple-to-use UI but pretty much comparable to its previous versions.
The new iPad flaunts the latest version of Apple's famous iOS operating system, the iOS 5.1. Even so, we do not seem to see any striking enhancement. We did hope for something more, something that could perhaps give a sense of uniqueness. Apart from the very minimal change that you can barely notice, the iOS 5.1 that runs on the new iPad is still the same as its previous versions. It's not that we're complaining but we cannot help but crave for something that could at least match the slate's superb screen resolution.
On the lighter side, the iOS catapulted to popularity because of its very simple interface that needs no further digging or explanation. As a matter of fact, it can be easily used by those who are still new to the UI of the new iPad. The direct approach that you can find within the iOS' interface can be considered as one of the keys to its success.
FRONT AND REAR CAMERAS
Overall Remark: Improved rear camera but the quality of the front camera remains unchanged.
We are just a bit disappointed with the new iPad's front facing camera. Yes, FaceTime is very good but they should've at least offered some improvements with the slate's front snapper. Come to think of it, tablets are often used for face-to-face chats and not for taking photos. By that we mean that you will still be getting the same image quality (that's apparently VGA and nothing more) with the iPad 3's front camera.
Fortunately, Apple did show some efforts in improving the quality of its rear facing camera. The new iPad can now boast its 5 mega pixel iSight camera with auto focus, tap to focus and face detection. The snapper may lack the needed flash but it can pretty much be used on low light conditions. Unsurprisingly, the quality of the photos that you can get from the new iPad's camera can now be able to compete against those with high quality camera sensors. Nonetheless, using the tablet's shooter in public could make you feel a bit awkward.
MESSAGING
Overall Remark: At last, you can opt to free your fingers from doing all the tedious work.
The messaging functionality of the iPad 3 is as simple and as fluid as ever. The slate's virtual keyboard offers a lot of space for your fingers to explore. But what's even better with the new iPad is the fact that you can finally opt to use a new feature called Voice Dictation. Android users will find this feature very similar to Google Voice.
With Voice Dictation, you can input your context or messages by speech. No fingers needed! All that you need to do is tap the Voice Dictation icon (the microphone icon). If you're concerned about its accuracy, then you don't need to worry about anything at all. This new messaging feature that you can get with the new iPad can recognize your speech with very minimal errors. It can even recognize a variety of languages including English, French, German and Japanese. Somehow, we do wonder if the said feature can do well for non-native English speakers.
CONNECTIVITY
Overall Remark: Faster network speeds with 4G LTE. So long 3G!
The new iPad is highly recommended for those who are always on the go. Unlike the iPad 2, the latest version can finally allow you to connect to the internet at blazing fast speeds without solely relying on your Wi-Fi connection. That's because the iPad 3 now comes with a built-in support for 4G LTE courtesy of AT&T and Verizon. As for those who are currently living in areas or countries without 4G LTE, you can always connect via Wi-Fi.
Knowing that the new iPad can now be able to utilize the power of LTE, Apple users do have more reasons to be loyal to the Cupertino-based company. At least now, they won't have to bear with 3G.
MEMORY, STORAGE AND PERFORMANCE
Overall Remark: Faster Processor with better memory. No remarkable change in storage options.
It was during the recently held iPad event that Apple announced that the new iPad will be sporting a custom designed dual core A5X processor. The company claims that the said chipset is twice as powerful as the iPad 2's A5 CPU. Apple even stated that the A5X is four times faster than Nvidia's Tegra 3 quad core processor. We don't know about that but we are still looking for a good source that can provide an unbiased benchmark test that will compare the speed and performance of both chipsets.
Still, it cannot be denied that the A5X that powers the tablet can pretty much handle the load without any bothering lags and glitches. Thus, you can pretty much use the new iPad for playing your favorite triple-A mobile games.
In terms of memory, the new iPad can take pride of its massive amount of RAM that won't go any lesser than 1GB. The iPad 2 back then was only stuffed with 512MB of RAM. Just imagine how it would be like to use an A5X-powered Apple tablet with 1GB of RAM. But that's not all. The iPad 3 comes in three storage options. The smallest amount of storage that you can get is 16GB all the way up to 64GB.
PRICING & AVAILABILITY
Overall Remark: Will give you a bang for your buck. A very powerful slate with high-res Retina Display that can be yours for as low as 499 US Dollars!
Regardless of all the good aspects that you can get from a slate, the price will still be the final factor. If it's feature-packed but too pricey, you won't even dare to get one at all. But in the case of the new iPad, you can easily get its Wi-Fi only model for a very affordable price of $499. That's for the 16GB version. If you do want to get the Wi-Fi only 32GB version, you will need to pay a sum of $599. Just add $100 and you will be able to take home the 64GB version of the Wi-Fi only variant of the new iPad.
As for those who can afford to pay more, you might as well opt to get the slate's Wi-Fi + 4G variant. The 16GB model for this variant will cost you a total of $629. Add $100 and you will get the 32GB or if you want, you can pay the sum of $829 to get the 64GB model. That's ample to enough to save your photos, music files and videos.
CONCLUSION AND FINAL REMARKS
No matter how good or bad a tablet is, we will always need to make a decision. As for the new iPad, we can say that it is pretty much worth its cost. It's a very good slate that can be used for business, entertainment and education. It's a total package and you don't even need to ask for more. There may be a few features that you cannot have such as a better front camera and a micro SD card slot but that's pretty much considerable.
What we're trying to say here is that if you are currently looking for a good slate (or shall we say impressive), do not hesitate on getting the new iPad. But for those who already got the iPad 2, you will need to think twice before getting the slate. The features are pretty much alike except of course from the notable improvement in the tablet's display, support for 4G LTE and enhanced rear camera with 5MP sensor. But the display alone can tempt you to make the big switch. And if we base the overall quality of the new iPad according to above factors, the tablet will definitely get an 8.5 out of 10 rating.