Last Wednesday, March 7th, Apple announced the upcoming availability of its newest generation of iPad tablet – the New iPad. Alternatively called as the iPad 3, the slate flaunts its 'resolutionary' Retina Display with an ultra-high screen resolution of 2048 x 1536 pixels. No doubt. The new iPad's screen is far more vivid than an HDTV and it is certainly attractive for those with keen eye for graphics. Considering that the Apple iPad 3 is today's latest tablet craze, you would eventually find something that's worth to compare. As a matter of fact, there a couple of worthy contenders but in this particular post, we will compare the new iPad with the Asus Transformer Prime.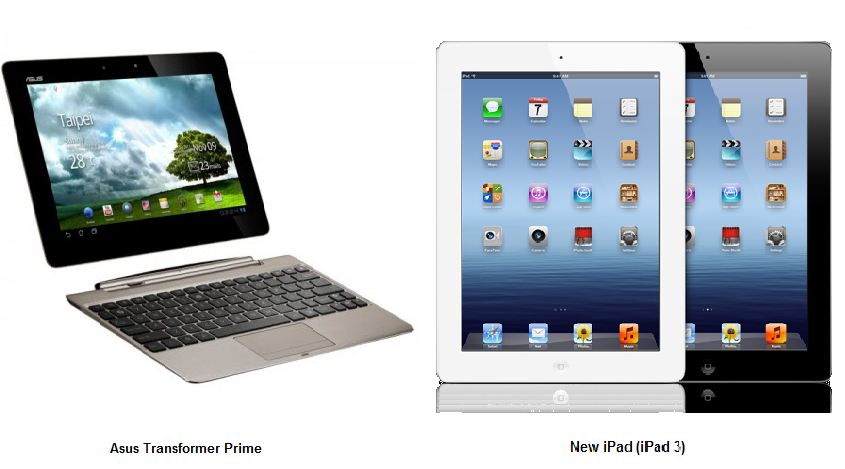 Released last December, the Asus Transformer Prime packs a very powerful quad core Nvidia Tegra 3 processor and a Super IPS+ Display. One of the best things about the tablet is that it comes with a portable keyboard docking station that will eventually allow you to type on a full-sized QWERTY keyboard. Thus in this 'Apple iPad 3 vs Asus Transformer Prime T201 Comparison', we will know which tablet is better: the new iPad with high-res Retina Display or the Transformer Prime with quad core processor?
APPEARANCE
Apple says that new iPad is not only brilliant on the outside but also brilliant on the inside. We do not question this but there's no doubt that the new Apple slate looks a lot like its predecessor, the iPad 2. As far as our keen eyes are concerned, the slate's usual form factor has been retained. Though, it is also important to note that the iPad 3 is a bit thicker and heavier than its earlier version. That being said, the new iPad flaunts its 9.4mm thick body with an average weight of 652 grams. Still, the slate is portable enough and can easily be tucked inside your bag. Like the iPad 2, the third generation Apple iPad comes in White and Black.
On the other hand, the Asus Transformer Prime sports a unique metallic spun finished design that's undoubtedly beautiful and elegant. We certainly think that the Transformer Prime wins over the iPad 3 in terms of appearance. Besides, it doesn't come with the usual Black and White variants. Instead, you can choose between its two classy colors: Amethyst Gray and Champagne Gold. Furthermore, the slate can definitely take pride of its 8.3mm slim body. With an average weight of 586 grams, the Transformer Prime is lighter than the iPad 3.
DISPLAY & SCREEN RESOLUTION
Obviously, nothing can beat the iPad 3 in terms of display and screen resolution. The Asus Transformer Prime may be equipped with a Super IPS+ LCD capacitive touchscreen but it can only give a maximum of 1280 x 800 pixels of full screen resolution. That's clear enough but not as clear the new iPad's 2048 x 1536 pixels of full screen resolution. As we've already said, the screen of the Apple slate is far more vivid than that of an HTDV. You may not recognize the difference at first glance but you will definitely choose the iPad 3 when it comes to viewing your favorite HD videos. It's clearer in the eye and you'll see the richness in image quality and color.
It is also important to note that the new iPad's display, which has been set at 9.7 inches, is a bit smaller than the 10.1 inch display of the Asus Transformer Prime. Both slates are scratch-resistant.
OPERATING SYSTEM
Here comes the fun part. We've come to learn that the iPad 3 runs on the latest version of Apple's platform aka the iOS 5.1. Meanwhile, the Asus Transformer Prime's firmware has officially been upgraded to Android ICS 4.0. Both are packed with unique features but the question is – which is the better platform? We're not going to deal with every little detail here but considering that Google has already replaced its famous Android Market with Google Play, we'd say that this is a close fight between iOS 5.1 and Android 4.0.
Still, the choice would totally depend upon the user and that's 'you' of course. If you do think that that UI of the IOS 5.1 is much simpler to use, it's really up to you. As a matter of fact, most of today's devices with Android Ice Cream Sandwich have already been coated with custom UIs. We do find that a bit troublesome especially for those who are used to the UI of their previous phones.
MEMORY, STORAGE & PERFORMANCE
Funny how Apple took the advantage of comparing its new dual core A5X chip to Nvidia's famous Tegra 3 processor. According to Apple, the custom-designed chipset that powers the iPad 3 is 'four times' faster than Nvidia's quad core processor. As of now, we're eager to see the unbiased benchmark results for these two powerful processors but right now, it would be better to stick on Apple's words.
In terms of memory, the RAM of the new Apple slate was not mentioned. But we dug a little bit deeper and happened to discover that the Apple has boosted the tablet's memory to 1GB. Like the iPad 3, Asus' Transformer Prime can also take pride of its 1GB of Memory.
Storage wise, the iPad 3 comes in three storage options. There's a 16GB variant, a 32GB variant and a 64GB variant. But that's all that it can offer. The tablet lacks the needed support for micro SD slot. Meanwhile, the Asus Transformer Prime can only be availed in two storage options. Aside from its 32GB version, you can also opt for its 64GB version. In addition, you can also make use of the slate's 32GB of external micro SD card storage that's pretty much ideal for storing your unused files, photos and videos.
CAMERA
When it comes to camera quality, photo buffs will surely choose the Asus Transformer Prime. You see, the tablet packs a high-quality 8 mega pixel rear facing shooter with auto focus, geo-tagging and LED Flash that can take photos in 3264 x 2448 pixels of full resolution. The Transformer Prime can also take pride of its 1.2 mega pixel camera that you can use for video calls. The iPad 3, on the other hand, flaunts its 5 mega pixel rear facing camera with auto focus, HDR and face detection. The slate's primary shooter can take images in 2592 x 1944 pixels of full resolution. The tablet's front facing VGA camera with FaceTime can also be used for video calls.
CONNECTIVITY
There's nothing much to be compared here. Both slates are packed with a wide range of connectivity options that includes Bluetooth, Wi-Fi 802.11 b/g/n and USB 2.0. As for those who are currently living in 4G LTE supported areas, you should consider getting the Wi-Fi + 4G version of the iPad 3. That's if you're willing to pay for the slate's monthly data subscription.
BATTERY
Both are really powerful slates. Thus, it is also necessary for their batteries to last for at least half a day. The new Apple iPad may be equipped with 42.5 Wh of standard Li-Po battery but it can only provide your slate with an average life of 10 hours. That's for heavy usage. Meanwhile, the Asus Transformer Prime's 25 Wh of standard Li-Po battery can eventually last for 12 hours. Apparently, the power consumption of the tablet has been reduced thanks to its chipset's fifth battery-saving core.
PRICING & AVAILABILITY

The Apple iPad 3 is currently available for pre-order at the Apple Store. The slate's 16GB Wi-Fi only version can be yours for $499 while the 16GB Wi-Fi + 4G version is currently being offered for $629. The slate will hit the retail shelves this 16th of March.
Meanwhile, the Asus Transformer Prime's 32GB Wi-Fi only version can be yours for a starting price of $649. That's for the 32GB variant. The slate's 64GB variant is currently being sold for $725.
Price wise, the new iPad costs a lot cheaper than the Asus Transformer Prime.
CONCLUSION
Choosing between two powerful tablets is a very difficult thing to do. You do agree, don't you? Now, allow us to ask you this: Would you trade the Apple iPad 3's high-resolution Retina Display, iOS 5.1 and A5X chip over Asus Transformer Prime's Super IPS+ LCD Display, Android 4.0 Ice Cream Sandwich and Nvidia Tegra 3 Quad Core Processor? If your answer is yes, then go for the Asus Transformer Prime. After all, you'll get a very classy-looking tablet with a keyboard docking station. As for those who are eyeing for the iPad 3, you'll have to bear with the slate's 5 mega pixel rear facing camera and smaller display size.
The truth is, the iPad 3 and the Transformer Prime are both packed with pros and cons. In our own preference, we'd go for the new iPad simply because we do want to get a slate with a better resolution. For us, we think that performance is better than appearance. As for you, you'd need to assess the aspects that you want for a tablet. If you want to unique and stylish, we recommend that you go for the Asus Transformer Prime. After all, none can underestimate an Android 4.0 Ice Cream Sandwich powered slate that's powered by Nvidia's Tegra 3 quad core processor. That's if you're willing to pay for its cost.