Apple is pretty quick in releasing updates for better experience. The latest news we have is that Apple has released OS X 10.8.2. You already know that Apple has released iOS 6 but along with that Apple INC has also released OS X 10.8.2. You will be able to find this update in Mac App Store. This update has brought about many amazing and useful feature enhancements. Yes, you will find benefits like Game Center as well as Face Book Integration. It is recommended that users who use OS X Mountain Lion must get support of Apple's OS X 10.8.2. Here are the features that you will find with this current update.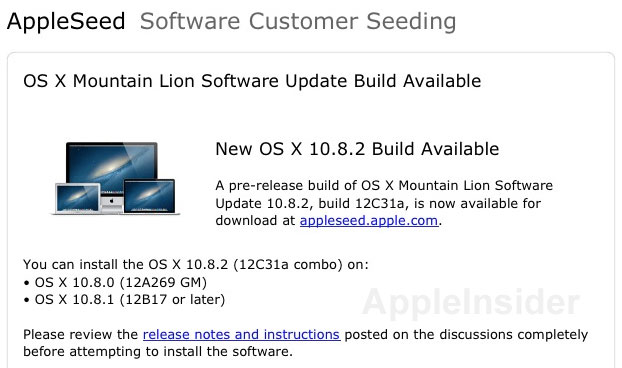 Feature Enhancements:
As far as Facebook feature enhancement is concerned, you will see a single sign on for it. Also, you will get benefit of viewing Facebook contact info in the Contacts. Along with this Facebook notifications all also appear in the notification area.
In GameCenteryou will be able to share scores to mail, Twitter or Facebook. The Facebook's Like button would also appear for games. Thus, in brief, you can take up games as well as challenge the friends with this particular feature. It means that now, you will be able to have more fun atGameCenter once you hug this update.
Other useful features include addition of Power Nap support for MacBook Air, iMessages appearing on Mac, addition of Passbook on iPhone from Safari on Mac, addition of shared reminder lists, addition of other language support for Dictation Now, availability of direct downloads through Apple's website.
We are sure you must be impressed with the above details. You will find the update support link below:
- OS X Mountain Lion Update v10.8.2 (665.48 MB)
- OS X Mountain Lion Update v10.8.2 (Combo) (665.39 MB)