The top 10 free basketball game apps can be easily searched and downloaded from the Google Play Store. But in order for you to find them, you must be willing to try each app that you see on the search results. And if you are the type who dislikes the idea of downloading an app for the sake of knowing if it's good or bad, you might as well refer to our list below. That way, you would be saved from the burden of deleting a pile of unused applications. Most importantly, you will have the chance to play your favorite game on your smartphone.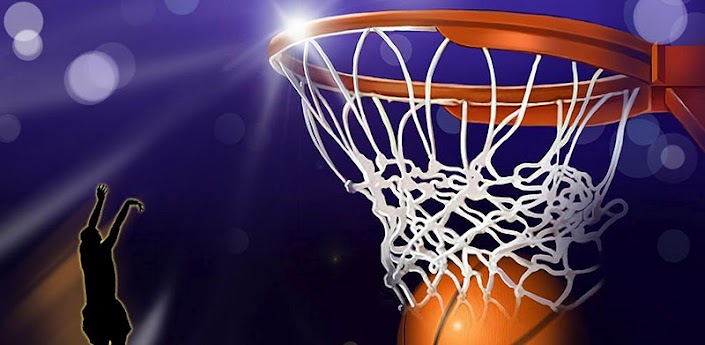 1 – Basketball Shot by Droidhen Casual
This game is pretty much similar to the one that you often see on the arcade. The only difference is that you can play this game on your phone. There are no special features or whatsoever. But the simplicity of this game appears to be a very effective tool in captivating the interests of those who are fond of the game. You won't have to compete against an opponent team. Instead, you will be challenged to shoot the ball on the ring before the time runs out. Just use your finger to shoot the ball and make sure that it will go on your preferred direction. If you manage to make a couple of good shots, you will eventually be rewarded with a high score.
2 – Tip-Off Basketball by Iopixel
With Tip-Off Basketball, you will have the chance to play your favorite game to a whole new level. With different backgrounds to choose from, you will be hyped up to give your best as you aim to make a good shot. To play the game, you will need to use your finger. Throw balls and do a bunch of cool combo shots. You can even opt to play the game in career, network or campaign mode. There are a total of 25 levels that you need to complete and each level will be filled with challenges that will certainly test your skills. Plus, you will have the ability to challenge your fellow players on the court. Some of the game's features are as follows: online cross-platform multiplayer mode, training modes (free throw and timed mode), worldwide leader boards and a whole lot more.
3 – Basketball Throw! by Workpail
Despite of its simple-looking layout, this game called 'Basketball Throw!' is a very challenging basketball game that you can play on your Android phone. With this game, your optimum goal is to throw the ball to the basket and score as many points as possible. Just drag your finger to aim for the basket and make a basketball shot. And once you are ready, release your finger to launch the ball. That may sound easy but you will definitely encounter some difficulties especially on that part wherein you will need to calculate the angle and the distance of the basket to your ball. If you are good at physics, then this game will certainly be a no-brainer!
4 – Basketball Shots 3D by Creative Mobile
The graphics of Basketball Shots 3D can somewhat be compared to the real NBA court. But with this game, you will not play along with your team. Instead, you will go solo. The gameplay of this game is pretty much simple to follow. Your main goal is to score 25 shots from 5 different positions in less than 5 seconds. You can also challenge your friends and earn some coins. With this game, you will be entitled to choose from its four difficulty levels. Plus, there are achievements that you need to unlock and you will be able to monitor your progress through the game's live leaderboard. Somehow, we can say that this is one of the most exciting basketball games that you can have on your Android phone.
5 – Midnight Basketball by Bonfire Media, Inc.
This particular basketball game app would allow you to experience the feeling of playing your game in the middle of the night. Of course, your environment will be dark but you don't have to worry. That's because you will be able to see the most important elements of the game and that is the basket and the ball. To play, just press and drag your ball then release in a slingshot action. The speed, distance and trajectory of the ball will greatly depend upon the way you control your motion. So you have to be wise and you have to know what you are doing. That way, you will be able to win the game.
6 – Hoopz Basketball by Mominis
Just imagine that you are practicing for an upcoming basketball tournament and you are staying up late just to hone your shooting skills. You aim for a three-point shot and you will do anything to improve your performance. Well, you can practice right through your phone. Just download Hoopz Basketball. In this game, you will be able to choose among three modes: freestyle, adventure and survival. You also need to pass through the game's 45 levels as you attempt to complete your mission. This game is very fun and addictive. You will certainly be pleased to have this game installed on your tablet or smartphone.
7 – Basketball Shoot by Runner Games
Basketball Shoot is a very simple game that's based on realistic physics. In this game, you will play basketball but not inside the court. Instead, you will play the game on different environments. You will be taken to the airport, the beach, the rooftop and so on. To play, just touch the screen and drag the dotted line to change the power and angle. Keep in mind that if you drag too much, your ball might go way farther than your goal. So you have to estimate your distance before you release your ball. Moreover, this game is suitable for players of all ages. There's no age restriction. Just don't forget to allot at least 2.1Mb of storage space on your phone.
8 – Basketball Pointer Lite by WaGame
There's no need for you to go the arcade. With Basketball Pointer Lite, you can play basketball right through your smartphone. The concept and gameplay of this game is pretty much similar to Basketball Shot. It's just that the graphics of this game appears to be fancier and you can toggle between two language options: Chinese and English. You can also brag your top score to your friends on Facebook as you attempt to beat the game's most skilled player. Just point and shoot your ball to the basket and enjoy!
9 – iBasket by Ludei
With iBasket, you will be playing your game outside the court. The overall vibe of this game can somewhat be compared to street basketball. Even the background has been set on the suburbs. Similarly, this game will make use of your phone's touchscreen. To play, just click and drag your ball to a particular direction and make sure that it will go through the basket before you run out of time. If you manage to make a three-point shot, you will be rewarded with a bonus score. And just like Basketball Pointer Lite, you can also brag about your score. One of the greatest challenges of playing this game is to beat your own high score. You will also be able to evaluate your performance as you compare your score to the scores of your fellow players.
10 – Basketball Lite by Ellis Markov
Basketball Lite is a very simple looking basketball game that's been specifically designed for Android tablets and smartphones. The concept of this game is to shoot the ball to the basket from the farthest distance. You can also set your gameplay according to your preferred mode. There are five different modes to choose from and that includes the ever popular NBA H.O.R.S.E mode. There's also the network mode that allows you to challenge your fellow gamers regardless of where they are in the world. But of course, you have to be brave enough to do so. Or else, you might end up losing and you will have to exert more effort to redeem your lost reputation.
The above mentioned basketball game apps are very fun and exciting. You will definitely be hooked to your phone for hours especially during those times that you have nothing to do at home. It is already a known fact that basketball is a very thrilling and challenging sport. However, not all are able to play this game because of certain factors. Some may intend to play but they simply don't have the time to do so. As for others, they might just want to try the game out but not in the real sense of the word. That is why it is quite good to have such games that you can readily play on your phone. No need to drop a sweat or run through the basketball court. Just gather along with your friends, pull out your device and you're all set to make that glorious shot as you tend to aim for a high score.