Google announced Android 4.0 Ice Cream Sandwich which is a better polished and more appealing than the previous versions and retains the power and versatile nature of the previous versions thus making it different and more attractive. As it has turned out to be, it is the most advanced and intuitive mobile OS ever made. All the older flaws of the previous versions have been removed and the dream of making one single worldwide OS that supports all the phones has been realized.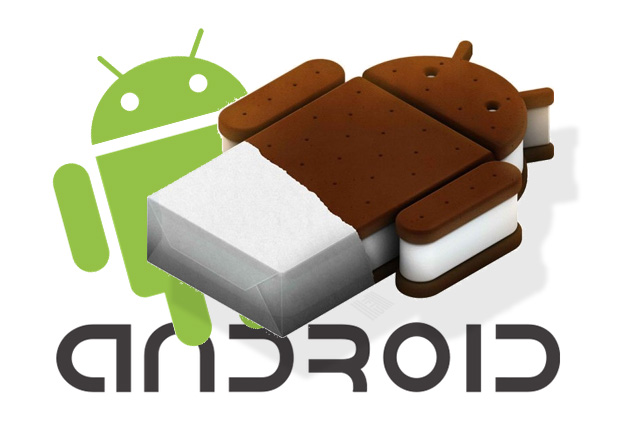 There have been some major upgrades and the looks and working of the OS is far more improved and efficient. The new font Roboto is far more attractive than the previous versions. Here are the 10 topmost features that have been revealed after the OS was run on Samsung Galaxy Nexus:
No more Front Buttons
The new system Bar at the bottom dissolves the need of physical buttons like back, search, home and menu which were required in the previous versions. In this new OS, three virtual buttons have been introduced namely Back, Home, and Recent Apps. A separate action bar has been introduced in the new Ice Cream Sandwich which provides more options in menu than the previous menu button. The location of this button depends on the application; it also includes a search option. The operating system provides far more options for searching the content in your smart phone but the previous option to hold the search button and launching Google enabled voice search is lost.
Better multi-tasking than iOS
The newly introduced Recent Apps button is of great use. The button opens a vertical menu which displays the thumbnail pictures of the recently used applications. This vertical stack menu can be scrolled easily. The multi tasking is quite easy and an open app can simply be closed by swiping it off. Closing open apps in ICS is easier as compared to in iPhone where you need to tap the home button twice and then selecting the open applications and then close it.
Face Recognition to Unlock
What can be more easier way to unlock a phone than simply staring at it? This feature is the newly introduced in Ice cream Sandwich. Face Lock can be setup from the settings menu and it works quite fine every time. The only thing that you have to make sure is that there should be enough light glancing on the front facing camera that analyzes your face. The backup option is giving a pin in case the camera fails to recognize your face. Although face Unlock is basically a convenience option rather than a security option, the only flaw in this feature is that you can unlock by simply showing a picture of the owner.
Widgets Can Be resized
Widgets are supposed to be more central and front facing for Ice Cream Sandwich when the Apps menu is opened. Widgets can be used to scroll through the content like that of your inbox or calendar. Widgets can be resized easily by tapping on them and dragging them to one of the corners.
Enhanced Camera Apps
The camera App is available in other Androids as well but thanks to the all new Ice Cream Sandwich the Panorama Mode is automatically initiated every time you start the camera. You can sway the camera left and right and the picture would be automatically taken care of. The editing features are improved and auto-fixing and cropping of pictures is easier and more efficient.
Cleaning off Notifications
The notifications used to come down in a drop down menu every time you tapped when a new notification came. Ice Cream Sandwich lets you delete specific notifications by simply swiping them off unlike previous versions where you would have to mark all the notifications and then delete all of them.
Navigation
Google has offered complete navigation unlike any other OS or smart-phone in its Android OS 4.0 Ice Cream Sandwich. ICS users need not pay any extra upward charges for a GPS as their device is one.
New People App
The all new People App introduced exclusively for Android 4.0 Ice Cream Sandwich is more appealing than the ordinary contact book. It provides a large profile of features and a better integration to Social Networking. You can swipe towards the right side of a contact to see its Google+, Twitter updates in a single line of stream. Facebook is yet to be added.
Text Response to Calls
The new OS Ice Cream Sandwich allows you to reject calls with decency. When you cannot pick up a call, simply swipe upwards and select a message from the convenient menu. You can also create a message of your own that would be sent if you are too busy to answer a call.
Web Browser
The browsing experience in the Android OS Ice Cream Sandwich is better than in all its predecessors. The browser is fast and it enables you to open as much as 16 tabs at the same time. Your Google chrome account can be synchronized to the browser of your phone and bookmarks can also be retained. If you are uncomfortable in using the mobile version of your browsers you can simply request for desktop type site option. The desktop version of the site is as good as that in your PC screen. Offline pages can be retained by users to read them later. Flash support for the browser will be launched later. Speech surfing was introduced before Apple launched 'Siri'. A third party application has been developed for Ice Cream Sandwich OS and supports the same type of functionality as that of Siri.