Organic Light Emitting Diode screens are starting to crop up in more and more places and soon you might even expect to see one at at a hospital near you, courtesy of Sony who just announced the first medical grade OLED monitor after it obtained its FDA approval.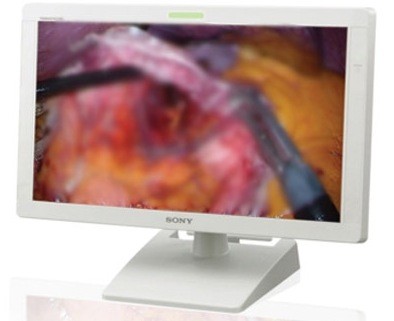 The 24.5-inch screen PVM-2551MD doesn't have a price tag on it just yet, though Sony has stated that they'll be quoting prices upon request.
Advantages of OLED in Surgery
Sony's move to come up with a medical grade OLED monitor should come as no surprise especially considering the fact that the advantages of OLED technology are particularly important in surgical procedures. Camera-assisted surgical procedures are becoming increasingly commonplace nowadays, and surgeons very often rely on images reproduced on a screen to perform complicated surgeries.
With the ability of OLED monitors to provide high resolution images that have true to life colors and a virtually non-existent motion blur, surgeons should be furnished with a more accurate picture of what's going on. Furthermore the fact that OLED monitors are excellent at displaying high contrast should also allow far more detail in a surgery.
Already OLED monitors are in use in certain parts of the world to assist in surgeries, but since Sony's PVM-2551MD is the first to obtain FDA approval it is a safe bet that it will be the one that begins to be used in hospitals in the United States.
Surgeons throughout the world have already come out strongly in support of OLED technology, with many citing the fact that it has a much faster response time than the LCD screens that have been used in the majority of hospitals up to now. Having true color reproduction is important as well, especially considering surgeons have to deal with many situations where the subtle color differences in dark images could be of extreme importance.
Other features such as adjustable gamma settings, noise filters, user memory presets for color and gamma, and a design that focuses on  hygiene and safety are all bound to be helpful in medical applications as well.
Adoption by the Medical Industry
It is still way too soon to predict the impact that this new OLED monitor will have on the medical industry, but Sony is optimistic that it will set a new standard for medical screen technology.
To date Sony has successfully introduced OLED technology to a range of other commercial applications, and they hope that the medical industry will respond to the PVM-2551MD in the same way. Thus far there are no indications as to whether or not that will happen.
Although the advantages of OLED technology in the medical field are well documented, no other company has announced any plans to manufacture medical grade OLED screens, at least not for the United States market. If Sony's new monitor is successful however, it could see some of the other big OLED producers follow suit.
Over the next few weeks the impact of Sony's PVM-2551MD will be able to be better assessed. Details of the monitor including its full list of features and other specifications are already available on Sony's website.