When choosing a tablet, you have to consider a lot of factors. You have to weigh all the elements that could contribute to a slate's overall quality and performance. Do not rush in making a decision. Come to think of it, an overpriced tablet would only waste your time, money and effort.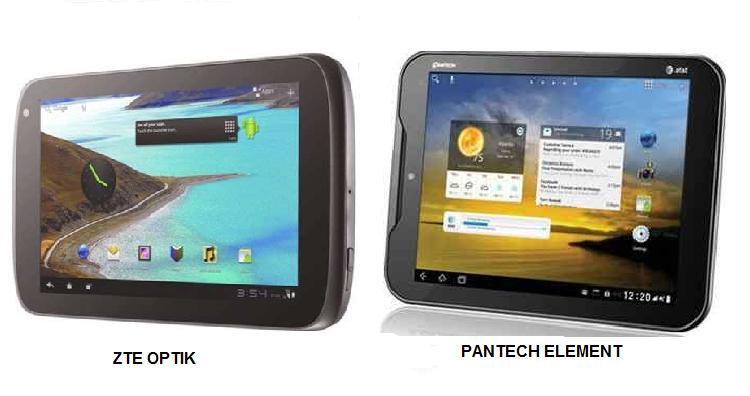 There may be a lot of tablets in the market. You can even choose from those slates with 10 inch displays while there are also those with 8 inch and 7 inch displays. The Pantech Element is a good example of a quality 8 incher. If you want a smaller one, you can have the ZTE Optik. Both of these slates can be purchased for a very decent cost. In this post, we will be doing a comparison between the Pantech Element and the ZTE Optik. We feel that we need to compare the two because two main reasons: the great difference in price and the similarities in terms of features and specifications.
APPEARANCE
When it comes to design, we can say that the Pantech Element looks more stylish than the ZTE Optik. The former flaunts a square-like form factor while the latter looks a bit plane with its silver-coated bezel. Furthermore, the 8 inch Pantech Element can take pride of its waterproof plastic body that can be submerged under water for a depth of 1 meter. Housed in a slim and solid casing, the tablet weighs around 470 grams. The 7 inch ZTE Optik, on other hand, is a bit lighter and flaunts an average weight of 400 grams.
OPERATING SYSTEM
It's quite typical for consumers to choose a slate with the latest OS version. In the case of Pantech Element and ZTE Optik, both are powered by Google's Android 3.2 Honeycomb. There's also a great possibility for these two tablets to be upgraded to Android 4.0. Thus, in this matter, we can say that both slates can suffice your cravings for a true blue Android experience.
PERFORMANCE
Performance wise, the Pantech Element's 1.5GHz Dual Core Qualcomm APQ8060 chip gets the advantage over the ZTE Optik's 1.2GHz Dual Core Qualcomm Snapdragon. There's only a slight difference in terms of speed and responsiveness. Both slates are pretty good with minimal lags and crashes. Whether you choose the Pantech Element over the ZTE Optik or vice versa, you can still be assured that you can enjoy your favorite games and movies. You can even customize your slate with your favorite live wallpapers and applications.
MEMORY
Memory plays a big role in your slate's overall functionality. If your tablet's memory is limited, your programs will run slow. Good thing both of the slates comes with an ample amount of RAM to cope up with your needs. The Pantech Element is equipped with 1GB of RAM that goes alongside with its 16GB of built-in storage and up to 16GB of storage via micro SD card. Meanwhile, the ZTE Optik can take pride of its 0.97GB RAM that matches well with its 16GB of internal storage. The latter may be a bit short in RAM when being compared to the Pantech Element but it can certainly assure you that you won't fall short of extra storage. That's because you can rely on the slate's micro SD card slot that can accommodate a maximum of 32GB storage.
CAMERA
Even though you have a camera phone, there are still times that you want to use your tablet for quick snapshots and video calls. When it comes to that matter, you can certainly rely on the Pantech Element and ZTE Optik. Both are equipped with front and rear cameras. The only advantage of the Pantech Element is that it allows you to record your videos in high-quality 720p HD format and you can use its shooter's built-in LED Flash. The ZTE Optik, on the other hand, is equipped with an auto focus feature but it lacks the needed flash. In terms of megapixels, both slates are equal. Both are equipped with a 5 mega pixel rear facing shooter and a 2MP front facing webcam. Still, our choice would be the Pantech Element for it can allow us to record our videos in HD format.
CONNECTIVITY
When you own a slate, you should know that the limitations of connectivity would matter. In this aspect, the Pantech Element leads because of its built-in HDMI port. That means you can connect the slate to your 40 inch TV and watch your videos in full HD resolution. In addition, the ZTE Optik's Wi-Fi is limited to b/g networks. You can really set your wireless connectivity to the max unlike the Pantech Element that allows you to connect via b/g/n networks. Even so, both slates are equipped with micro USB and can transfer files via Bluetooth connectivity.
BATTERY
The Pantech Element flaunts a long-lasting 6400 mAh battery while the ZTE Optik sports a 4000 mAh Li-ion battery. It's pretty obvious that the Pantech Element would win in this aspect since its power cell can last longer than the Optik. In fact, the slate has an average stand-by time of 600 hours.
PRICE
Now, here comes one of the crucial determinants in choosing a tablet. We have already assessed the two slates and we can say that both are quite similar in terms of features and specs. If you opt for the Pantech Element, which is available at AT&T, you will be required to pay for the slate's full retail price of $499.99. If you opt to subscribe to the carrier's two-year plan, you will be paying the sum of $299.99. As for the ZTE Optik, which you can avail at Sprint, you can have it on a two-year term and you'll only need to pay the price of $99.99. If you want to skip the monthly payments, you can pay for the slate's full retail price that won't go any higher than $349.99.
CONCLUSION
Well, you can really see the price difference. If you opt for a contract, the difference is $200. If you opt for a full price, you'll need to pay an extra $100 for the Pantech Element. Yet, the specs of both slates are pretty similar. Now, remember that we did say that connectivity matters. And indeed it matters as it's one of the main reasons why you'll be paying for the Pantech Element. That being said, the Pantech Element can allow you to connect to AT&T's high-speed LTE and you can also make use of your full Wi-Fi connectivity. Whereas in Sprint's ZTE Optik, you'll get stuck with 3G and you can only connect to the b/g network of your Wi-Fi.