We've already reported about Lenovo's newest Ultrabooks; the Lenovo IdeaPad U310 and IdeaPad U410. Now, these devices have already been launched in India a few hours ago making a lot of commotions in the Indian tech market considering they are among the best devices Lenovo can offer for Indian tech enthusiasts this year and perhaps, among the few better Ultrabooks being offered in the country. One of the reasons why these devices could be warmly accepted in the market is because of their Third Generation Ivy Bridge processors. Tech enthusiast or not, both know what devices running on iCore processors can do. Apparently, it is the speed and better use experience that everyone wants to experience using these Ultrabooks and such aspirations could possibly be achieved.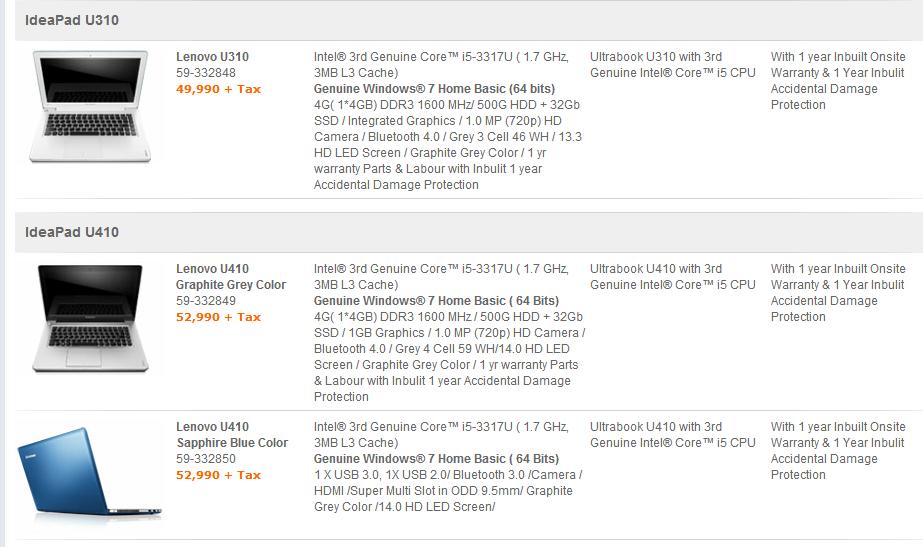 Lenovo's Indian-based corporate website has already posted and published a page dedicated for both IdeaPad U310 and U410 together with the features, specs and prices of these devices. The manufacturer boasts that these Ultrabooks are a result of the combined technology of the traditional laptops-that come with powerful hardware, huge capacity and rich audio-and the modern aesthetic factors giving more weight on the sleeker designs adorned with capabilities of tablets featuring shorter boot-up times and longer battery life. But let's try to find out more about these Ultrabooks and see if these devices are worth their price. Here are some of the key features of these ultra-thin and powerful notebooks.
Faster Boot-Up. With the help of Lenovo Enhanced Experience 3 built for Windows 7 operating system together with RapidBoot, both IdeaPad U310 and U410 are 40% faster to boot compared to other computers with Intel iCore processors running on Windows 7. Devices which boot faster than usual will often receive positive lauds from tech enthusiasts considering it isn't easy to make everything loads faster during startups.
BootShield. It is often normal or at least we expect that the more applications we install in our laptop, the longer it takes for them to boot up. However, Lenovo made sure that its newest Ultrabooks would be protected from such a lag that's why BootShield was installed so that even if U310 or U410 is stuffed with tons of applications, the boot-up time isn't affected. With BootShield, you can assure you don't have to wait for your device to boot that long.
Intel Anti-Theft Technology. Lenovo boasts of Intel Anti-Theft technology that is installed in these devices. This tech would actually help the real owner in cases of stolen or lost devices. The owner can remotely disable the notebook or even track it down using this technology. This is one of the added security features the manufacturer made sure to sport in its devices to attract even more attention by reassuring the people security is its priority.
Ultra Performance Mode. With Energy Management's Ultra Performance mode, owners of IdeaPad U310 and U410 would be able to maximize the full potential of the powerful hardware put inside these devices. According to Lenovo, this feature would actually bump the devices' performance for up to 25% and that is more than enough you could ask for from any laptop or notebook as thin and as light as these ones.
OneKey Rescue System. Security is one of the things Lenovo has been looking for to impose strongly in its devices and thus it adopted the OneKey Rescue System that automates and makes everything related to backing up data and system files easier than you could imagine. This could be one of the things you wish you had in your previous laptops, however, only Lenovo actually made it look like very important as it really is.
Of course, these are just five of the hundreds of features the company has put into these devices. But short as it is, this list is an evidence that both Lenovo IdeaPad U310 and Lenovo IdeaPad U410 are built for performance and style and you will be lucky if you can get one.