Admittedly Hyundai is a company that is much more famous for its automobiles than its tablets, but the fact of the matter is that they have manufactured two in the past and have now unveiled another 3 that feature Android 4.0 Ice Cream Sandwich. These tablets are reportedly intended for the Russian market, and are expected to make their debut on retailer's shelves there in late September. Whether or not any of these slates will make their way to the United States or elsewhere is still unknown, and the same can be said for Hyundai's long term plans within the tablet market.
Hyundai HT 7B Specifications
The 7 inch Hyundai HT 7B has a resolution of 1024 x 600 and runs on a Samsung 1 GHz processor with 1 GB of RAM as well as 8 GB of internal storage. It features a 2 Megapixel rear camera and a 0.3 Megapixel (VGA) front camera that is intended to enable video calls. It is powered by a 4000 mAh battery, and features GPS and WiFi functionality. Supposedly there will be two different versions of the 7B, one of which will also have 3G capabilities and come with Navtel navigation at a retail price of about $208 while the other will not have either of these features and will retail at about $180.
Hyundai HT 9B Specifications
Predictably, the HT 9B is a 9.7 inch tablet with an IPS screen that has a resolution of 1024 x 768. It runs on the Cortex A8 1.2 GHz processor and also has a Mali-400 GPU and 1 GB of RAM. Its internal storage is double the size of the 7B at 16 GB but it features the same 2 Megapixel rear camera and 0.3 Megapixel (VGA) front camera as that model. Apart from having WiFi and GPS it will also have Bluetooth and USB 2.0 capabilities as well as a HDMI out port. It will be powered by a 5,600 mAh battery within its metallic casing and will also have an optional keyboard dock. Minus the keyboard dock, it is expected to retail at about $270.
Hyundai HT 10B Specifications
Last but not least there is the HT 10B that (again, predictably) has a 10.1 inch display with a resolution of 1024 x 600. Apart from that however, its specifications are almost identical to the HT 9B with the one exception being the inclusion of 3G SIM support in this model. Needless to say, it is more expensive as well and will retail at around $311 when it is launched.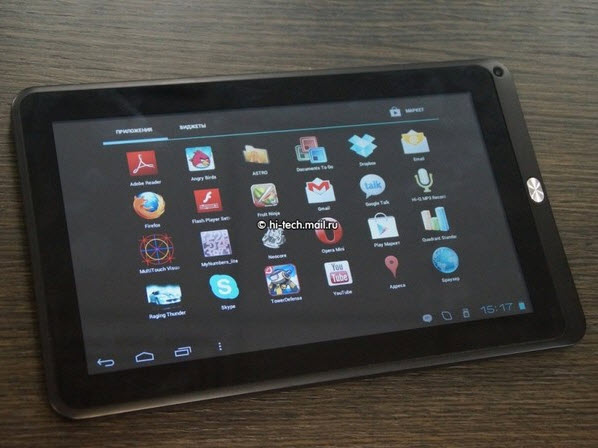 Hyundai has announced that it expects to sell about 2 million of these tablet models and whether or not that is an overly ambitious goal is something that only time will tell. Granted, none of these tablets have any ground-breaking specifications but they seem to be able to offer users all the functionality that they would need. The fact that there are three different options (four, if the two types of 7B tablets are included) distinctly points to the possibility that Hyundai may attempt to target each tablet to a specific segment of the Russian market. Some are even (jokingly or otherwise) suggesting that it wouldn't be surprising to start seeing Hyundai bundle these tablets along with their cars soon!