Reading eBooks on a web browser isn't exactly new. Amazon did the same thing about 2 years ago when they launched the Kindle web app, but now Barnes and Noble have finally caught up with their long time competitor by unveiling their own browser-based eBook reader called Nook for Web. Right now it supports both PC and Mac and can be run on various browsers such as Google Chrome, Firefox, Safari, and Internet Explorer. Already Barnes and Noble has announced that it intends to eventually expand Nook for Web to encompass other platforms, particularly those on mobile devices such as iOS and Android.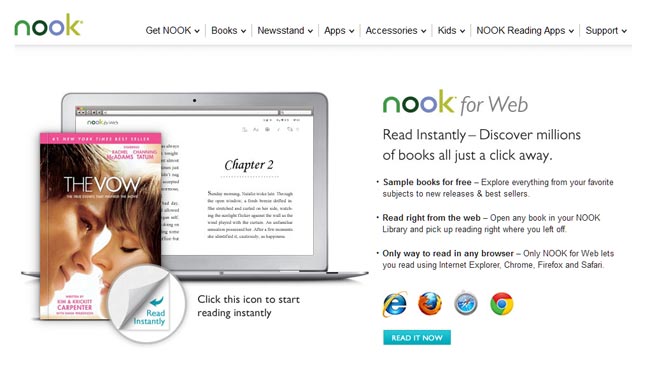 Features of Nook for Web
As far as the features of Nook for Web go, it basically does everything that you'd expect from a browser-based eBook reader. Anyone with access to a computer can launch Nook for Web from their browser and immediately gain access to the Barnes and Noble eBook store. Once there, readers can preview the books that are available and opt to purchase the ones that they like. Upon purchasing, the books can then be read directly in the browser without having to switch to another device or even open up a software application. Essentially, it is an entirely in-browser app that does not require any extra installation or configuration.
One of the best features for Nook for Web is the one that sets it apart: The ability to pick up where you left off while reading despite having switched devices. As such, even if you start a book on your ereader and then later access the same book via Nook for Web, it should put you on the exact page as you were on when you switched devices. Although that may not seem like a huge deal, any reader will know that being able to keep your place is extremely important and Nook for Web accomplishes that very smoothly.
Free Book Titles Available at Launch
To attract people to Nook for Web, Barnes and Noble have decided to allow readers to access six titles for free through to July the 27th. Those titles include Sex and the City by Candace Bushnell, The Vow by Kim Carpenter, Brave by Tennant Redbank, Map of Bones by James Rollins, The Boxcar Children Summer Special by Gertrude Chandler Warner, and Perfect Island Getaways by Patricia Schultz. Assuming you intended to read those titles, now might be a good time to grab a free copy from Nook for Web and start reading.
All in all, this move by Barnes and Noble should at least begin to bring them on par with their closest rivals, Amazon and will finally allow readers to have more options regarding where and how they want to read the eBooks that they purchase from the Barnes and Nobles bookstore. When support for other mobile devices arrives this fall, Barnes and Noble will finally be able to offer their customers the ability to use any sort of device to access their eBooks, and this is certainly one area that falls under the category of better late than never.