If you have been wondering what unique products are announced at Computex 2012 in Taipei, there is a lot. But one of the most amazingly strange product is from Asus-the Asus Transformer All-in-One (AiO). While we have been reporting of Toshiba's 13-inch tablet as the biggest, Asus just proved us wrong because this new device also comes as an 18-inch tablet. Well, in truth it is not a tablet per se but an all-in-one desktop computer or PC with a detachable display that supports multi-touch capability. It may sound a little strange so let's try to look into the specs and physical features of this device.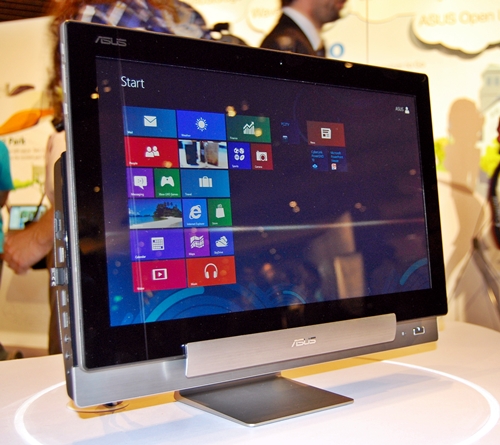 While there is no information about the system on chip (SOC) that Asus will be using for this device, it is almost certain that it will use Intel's third generation Ivy Bridge processors and my guess is either an i5 or an i7. A closer look would tell us that this devices was first built as a desktop computer and not as a tablet and that explains its 18.4 inches display. Thus, portability would surely be a problem for this device. And thinking about that fact, there is a greater possibility that Asus will give it an i7 quad-core processor with 8 threads ready for use anytime of the day.
Asus Transformer AiO is just being true to the purpose the company built it to be. The next factor that would help you say this device is strange is the fact that it boots on both Android and Windows 8. Close examination would tell us that Microsoft's operating system is rooted in the device because it boots on Windows first and after a click of the button, it transitions into Android system. Nevertheless, it is the first device to every feature a dual boot officially. We are not talking about any other version of Android but the latest-Android 4.0 Ice Cream Sandwich.
Asus Transformer AiO has a dock which you can easily detach the main unit from or connect  the display to. Adding a full QWERTY keyboard and a mouse and you will immediately conclude it is a typical desktop computer with a new and sleeker design. With the specs Asus has given to this device, you can also consider it as an ultimate entertainment hub with you can share with your family or friends. The fact that it has an 18.4-inch display is good enough to watch movies or videos.
As of now, we haven't gathered information about the pricing of this device. But with its specs and functions, it might be safer to think that this is going to sell in the high-end market. However, no one knows as of today when the company releases this all-in-one computer. And knowing it will showcase the new Windows 8 OS, we can expect it to come around the later part of the second half of 2012 simply because it will serve as the pre-cursor of Microsoft's soon-to-be-released operating system. Asus Transformer AiO may be the most bizarre device at Computex 2012 yet it is one of the most inspiring innovations on the part of Asus.