Compared to the Galaxy Nexus, the LG Spectrum can be considered as a newcomer in Verizon's ever-growing family of 4G LTE smartphones. But that does not mean that it would simply be taken down by its seniors. In case you haven't noticed, the smartphone can definitely take pride of its jam-packed specs which is quite ideal for those who are currently looking for a quality phone. Even so, we're quite sure that you want to pick the best LTE phone. To help you make a wise decision, you might as well do a comparison. And speaking of which, below is a comparison that evaluates the quality of the LG Spectrum when being compared to Samsung's Galaxy Nexus.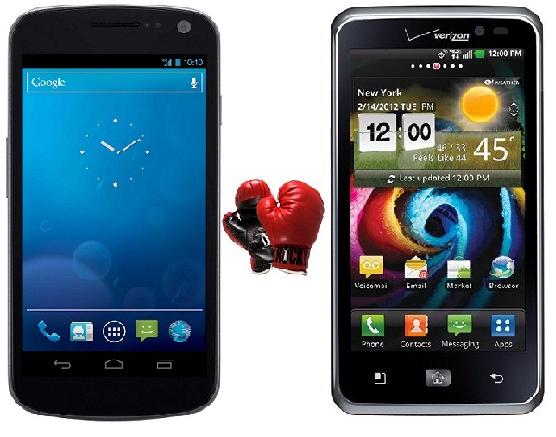 But before you proceed, allow us to give you a bit of precaution. This post could get a bit lengthy so be sure to prepare your popcorn. All set? The ultimate battle between the Samsung Galaxy Nexus and the LG Spectrum starts below.
APPEARANCE
As the saying goes, first impressions last. While we do not fully agree on that, we do have to say that looks does matter when it comes to choosing the right smartphone. When it comes to the LG Spectrum and the Samsung Galaxy Nexus, we can say that both looks really appealing and both can take pride of their textured back covers. When it comes to the quality of display, the LG Spectrum flaunts its 4.5 inch HD-IPS LCD Gorilla Glass Capacitive Touchscreen with 720 x 1280 pixels of full screen resolution while the Samsung Galaxy Nexus flaunts a 4.65 inch HD Super AMOLED Display with 720 x 1280 pixels of full screen resolution. Apparently, the latter's display is a lot wider than the former and it seems to look more classy with its contoured shape. The Spectrum, on the other hand, sports a straightforward look and it's also a bit thicker than the Samsung Galaxy Nexus. Needless to say, the images look more vivid when viewed in the Galaxy Nexus.
OPERATING SYSTEM
Here, for sure, you'd go for the one with the latest Android version. While we haven't heard of any upcoming firmware update for the Spectrum, the Samsung Galaxy Nexus is already gearing up for Android 4.0.4. In a few weeks from now, the world's first Android Ice Cream Sandwich handset will finally be upgraded from Android 4.0 to Android 4.0.4. On the lighter side, if you are not quite particular of the phone's OS, then you can definitely rely on the LG Spectrum's Android 2.3 Gingerbread.
PROCESSOR
A quality smartphone should always come with a quality processor. The processor is like the main core that could determine the overall performance of the phone. As for the LG Spectrum, it runs on a dual core Scorpion Qualcomm MSM8660 Snapdragon Processor that has been clocked at 1.5GHz. The Samsung Galaxy Nexus, on the other hand, runs on TI's OMAP 4460 Cortex A9 Dual Core Chipset that has been clocked at 1.2GHz. You can say that both are pretty much on the same level. Less lags and the motions are really fluid and you can easily launch your favorite apps and widgets without trouble.
MEMORY
Now, here comes the next part. The memory capacity of a smartphone can be divided in two divisions. The first one is the RAM which is basically used to cater the phone's pre-built applications while the internal storage can be used for your own choice of media and applications. It would also be better if the phone can offer a micro SD card slot for memory expansion. In the case of the LG Spectrum, you'll get a gig of RAM (that's 1GB) plus you can store your files in its 4GB of internal storage and up to 32GB of micro SD storage. Meanwhile, the Galaxy Nexus doesn't offer any expandable storage. Still, you can count on its 1GB RAM that goes along with its 32GB of built-in storage.
CAMERA
If you love taking photos, then it is very likely for you to get a quality camera phone. With that, you can definitely rely on the LG Spectrum's 8MP rear facing camera with auto focus, geo-tagging, LED Flash, face detection and image stabilization. You can record your favorite moments in 1080p HD quality and you can also take advantage of the phone's 1.3MP front camera for video calls. The Samsung Galaxy Nexus may not have an 8MP camera but that doesn't mean that you can ditch its 5MP rear shooter with auto focus, touch focus, LED Flash and Face Detection. You can also use the phone's camera to record a bunch of 1080p HD quality videos. Like the Spectrum, the Galaxy Nexus is equipped with a 1.3MP front camera that you can use for video calls.
BATTERY
It can't be denied that most of today's smartphones won't last a day when used for web surfing and viewing videos. It would be a whole lot better if you can get a phone with a battery that can last for at least 12 hours. In that case, you can have the Galaxy Nexus with 1830 mAh of standard Li-ion battery. If you pick the LG Spectrum with 1830 mAh of battery, you'll basically need to recharge after 8 hours. Of course, that totally depends on how well you use your phone.
PRICE
As we've already mentioned, both phones can be availed at Verizon Wireless. That also means that you can readily connect to the internet thru Big Red's blazing fast 4G LTE. Nevertheless, the $199.99 LG Spectrum costs a bit cheaper than the $299.99 Galaxy Nexus. Do expect that you will be required to avail the carrier's two year network subscription. If you hate contracts and would rather opt to pay for the phone's full retail price, the Spectrum is currently being offered for $589.99 while the Galaxy Nexus can be yours for $649.99.
Both phones are really good and of high quality. When choosing a phone, you really have to consider your needs. If you want a phone that can let you take a lot of high-quality photos, you'd better go for the LG Spectrum. If you are craving to taste the new features of Android Ice Cream Sandwich and you can manage to pay the extra bucks, go for the Samsung Galaxy Nexus. But if you really want to know our preferred phone, we'd definitely go for the Galaxy Nexus.

You Might Also Like :