There are more than enough reasons for you to buy a Samsung Galaxy Note. And if you do agree that bigger is better, then you'd be delighted to know that the 5.3 inch mobile device will soon be made available via AT&T. But guess what's even more interesting? The Galaxy Note I717 will be part of the carrier's ever-growing 4G family.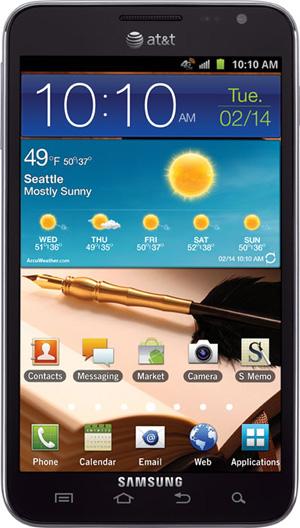 If ever you're planning to get one, you'd better prepare your wallet. That's because AT&T has officially announced that the phone-tablet will be out in the market this February 19th. If you do have some extra cash and can afford to pre-order the Note, you can do so starting this February 5th. The device will then be delivered to you two days before its official market launch. That's on February 17th. Do expect that you will be asked to pay the sum amount of $299.99 and that you will need to say yes to the carrier's two-year network contract. The Samsung Galaxy Note from AT&T will be offered in two colors. Therefore, you can choose between its carbon blue and ceramic white form factors. If you do want to skip the contract, you can opt to buy the unlocked version of the phone-tablet for $694 but you'll only be limited to 2G and 3G networks.
Specs wise, the AT&T Samsung Galaxy Note LTE will be equipped with a large 5.3 inch Super AMOLED capacitive touch screen with 800 x 1280 pixels of full screen resolution. The device will also flaunt its revolutionary S Pen technology that will go alongside with its 8 mega pixel rear camera with auto focus and LED flash, 2 mega pixel front camera, Android 2.3.5 Gingerbread operating system with TouchWiz UI v4.0, 1GB RAM, 16GB – 32GB storage, up to 32GB of micro SD storage, HTML Browser with Adobe Flash, Bluetooth, Wi-Fi and 1.4GHz Dual Core Exynos ARM Cortex A9 Processor.
[Via Talk Android]

You Might Also Like :