Not all Nokia Lumia phones are expensive. That's the very truth we are experiencing right now as Nokia launches Lumia 610 that is capable of Near Field Communication (NFC). The first ever operator to bring this device to the world is Orange. Most of the people who learned about Nokia Lumia 900 and the rest of the first Lumia series would refer to this handset as the "youngest Lumia" basically because it is the device with the lowest number attached to its name. But in truth, it is released to compensate what Lumia 710 failed to deliver last year. It is not new to everyone that the first Lumias were not really able to satisfy the audience that Nokia was targeting and so there is a need for yet another series but this time the company is confident it can acquire the attention it needs.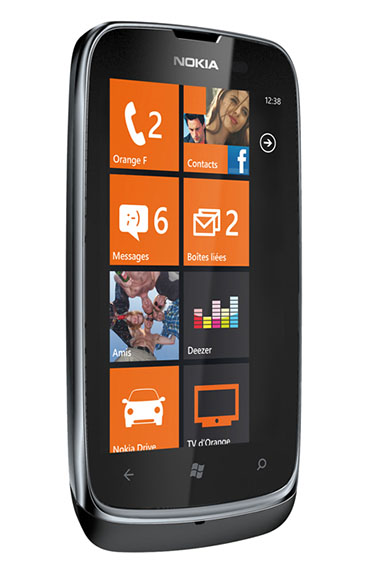 Being the youngest addition to the Lumia family, Lumia 610 is the most affordable and budget-friendly phone. And that's evident when you look at its specs because it has considerably smaller muscles than the Lumia 900 but that doesn't mean it has a not satisfactory performance. Having a Windows Phone (WP) operating system (OS) does not need really impressive specs like Android devices simply because WP OS is geared up for devices which come with lower specs. In fact, it would even run perfectly on a device with random access memory (RAM) lower than 256 MB and central processing unit (CPU) clocked as low as 300 MHz frequency. When you look a little closer into the specs this handset offers, you will learn it has specs more than enough to run Windows Phone and offer smoother and satisfactory experience.
Nokia Lumia 610 sports a CPU with 800 MHz clockspeed and a RAM of 256 MB. While it doesn't have support for microSD slot, it comes with 8 GB of read-only memory (ROM) or storage space. It has a 5-megapixel camera featuring LED flash, autofocus, face detection and geo-tagging. It has a display a little bigger than the current version of iPhone at 3.7 inches and screen resolution of 480 x 800 pixels which features TFT capacitive touchscreen and protected by Corning Gorilla Glass. For its size and build, it has a considerably big Li-Ion battery that sports 1300 mAh and could run up to 11 hours of straight talk time. These specs are more than enough to ensure smooth operations and performance.
One thing you should know more about Nokia Lumia 610, though, is its capability to cater services that require the use of NFC. Nokia has put all the necessary hardware and software for this technology and this model has already been certified by MasterCard for its PayPass service and Visa's mobile payment application known as Visa payWave. So, this device would rather be called Nokia Lumia 610 NFC to be known to everyone what it's capable of. But the fact is, this is not the first time that Nokia sports NFC capabilities to its handsets because if my memory serves me well, this is the 8th device in two years time to feature NFC functionality. So don't be surprised if you'd see other Nokia devices other than Lumia 610 to do NFC functionality.