Lenovo have just given another reason to check out their latest product. There is no denying that with the latest gadget wars, the best way forward for a company is to send them out bigger, bolder and better. It is no surprise that even when the dust has not settled on Microsoft Windows 8, we have tablets already out. Well, if you don't have the news yet, here it comes.
Lenovo, the computer maker, now has a 10.1 inch ThinkPad Tablet 2 running windows 8. Whoosh! That came fast. I mean, we all expect the retail version of Windows 8 to hit out stores in October, right? Anyway, here is what you need to know about the newest tablet on the block.
First, it is a tool for your business life and of course, what the tablet does best is complement your social life. So picture the following specs, which make it quite a darling. I think all other tablet manufactures are rushing to their research and development labs to become organized, especially the surface tablet.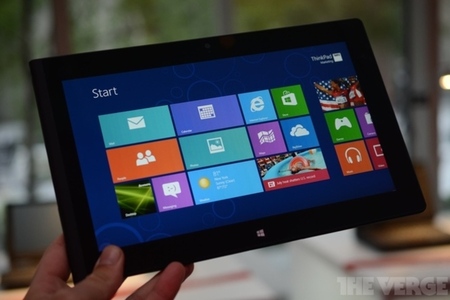 The Lenovo ThinkPad Tablet 2 will have the best that Windows 8 has to offer, the touch functionality. Therefore, it is your laptop turned into a tablet. Think of your original ThinkPad. Make it lighter, more portable and very intuitive to use. The tablet comes at a slim size of just 0.39inches by 10.3 inches by 6.5 inches.
Now, add native network functionality to it and here you are. If you get the ThinkPad Tablet 2, you are also getting a device to connect to your enterprise, together with a desktop support. This is why I say, this tablet will get others going back to the drawing board. All enterprise solutions come with the tablet. Security features include a SmartCard reader. For connectivity, you get a 2.0 USB connector. Moreover, HD and projector enthusiasts have a mini HDMI output for their intended use. Of course, we have the Wi-Fi and Bluetooth.
No device now can miss the two specs. Here comes the honey in the details. Yes, the ThinkPad Tablet 2 has both 3G and 4G capabilities. If this is going to be your meeting device, you know stuff like Skype and Google+ hangouts, and then you have a 2 megapixel camera at the front. The mic is incredible with noise cancellation abilities and it goes to your Lync and Skype with no fuss.
I am not leaving out the stunning pictures that you will take to share on your projects. The 8mp rear camera and LED flash are the best for that job. Now you know who the newest kid on the tablet market is. Go get it!