The Samsung Galaxy Tab 2 10.1 is the official successor of the original Galaxy Tab 10.1. It's a good tablet but can it beat the features of the Samsung Galaxy Note 10.1? Both tablets may be made by Samsung but it would be better if you can determine the better one between the two. To do that, we suggest that you do a wise comparison. By comparing the Samsung Galaxy Tab 2 10.1's specs and price against the Galaxy Note 10.1, you will know the advantages and disadvantages of choosing the former over the latter. You will also know why the latter has the so-called 'edge' over the former. You do not need to be confused. As long as you are guided with the basic principles of comparing two Android tablets, you will eventually be able to evaluate the performance and quality of both slates. To make your task simpler, we have done our own specs and price comparison. Do keep in mind that the outcome of this comparison will be based on our own evaluation. We do not intend to influence your decision. After all, you are entitled to your own discretion. In simple words, the choice is yours.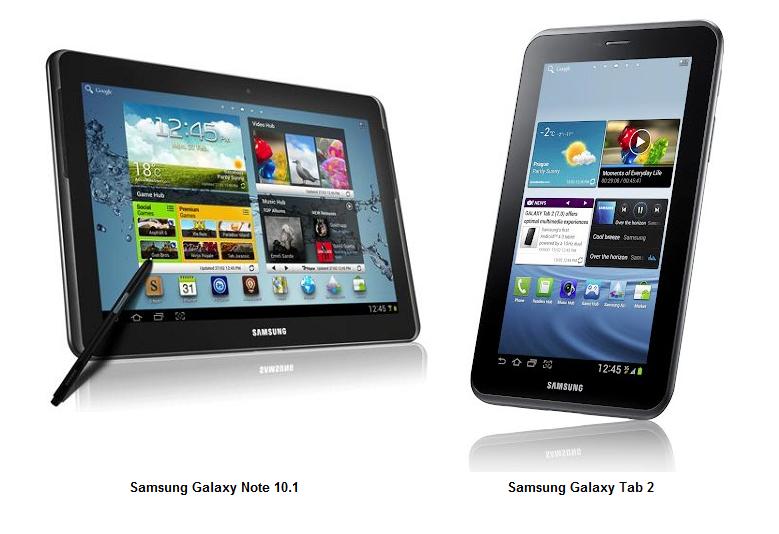 APPEARANCE
First impressions last. We do believe in that notion. Come to think of it, you wouldn't want to get a tablet that looks a bit out of mode. By comparing the Samsung Galaxy Tab 2 10.1's specs with the Samsung Galaxy Note 10.1, we will know which tablet looks prettier and more appealing to the crowd.
Flaunting its 9.7mm thin body, the Samsung Galaxy Tab 2 10.1 has an average weight of 588 grams. Compared to the 8.9mm thin form factor of the Galaxy Note tablet, you will be able to tell that the latter is thinner and lighter with an overall weight difference of 5 grams. Furthermore, the Galaxy Note tablet's 10.1 inch PLS TFT display is pretty much the same as the Galaxy Tab 2 10.1. By that, we mean that you will be able to view your photos and videos in 800 x 1280 pixels of full screen resolution.
OPERATING SYSTEM
Lately, more and more Android users are craving to taste the new features of Android 4.0 Ice Cream Sandwich. Fortunately, you won't have a difficult time choosing between the two tablets in terms of OS. That's because both are packed with Android 4.0 Ice Cream Sandwich. No need to trouble yourself for cumbersome updates and all that you need to do is to enjoy the all-new experience that you can only get from Google's latest Android OS version.
PERFORMANCE, MEMORY & STORAGE
There's no doubt that the Samsung Galaxy Tab 2 10.1's 1GHz Dual Core Cortex A9 chipset can handle your triple AAA mobile games and HD videos. Even so, it cannot match the 1.4GHz Dual Core chipset that runs on the 10.1 inch Galaxy Note. Plus, the latter can also take pride of its unique S-Pen technology that brings back the mighty stylus pen's input function. Through this, you will be able to doodle on your memos, screenshots and photos. The Galaxy Tab 2 10.1 may have its predictive text input (courtesy of Swype) but it we do think that the S-Pen input on the Note is quite better especially when typing a couple of lengthy quotes.
Storage wise, both are capable of stacking your files in 16GB and 32GB of storage options with extra 32GB of external storage space via micro SD card. The only advantage of the Galaxy Note 10.1 is that you can opt for a variant with 64GB of internal storage. Both are equipped with 1GB of RAM.
CAMERA
You'll never when you will be able to take a good photo. Thus, it would be a great advantage for you to have a tablet with a built-in camera that you can use for capturing images and videos. In this aspect, both slates are equipped with 3.15MP rear cameras with auto focus, geo-tagging and LED flash. The photo quality may not be as fine as those that were taken using a 5MP or an 8MP sensor but decent enough to be posted and shared on your Facebook wall.
Anyways, with tablets, we do prefer to have a front facing camera that we can use for video calls. In this case, the 2MP front facing camera of the Galaxy Note 10.1 wins over the Samsung Galaxy Tab 2 10.1's VGA webcam. No doubt that the image resolution of a 2MP camera is much better than the ones taken from a VGA camera. If you are like us and you often talk to your friends abroad, better get a tablet with a decent front camera sensor.
CONNECTIVITY
Connectivity is a vital factor that should be considered in tablet comparisons. Regardless of your needs, it is best if you pick a tablet with lots of connectivity options. In this aspect, we can say that you can definitely depend on both. If you want to surf the web, you can toggle between the Galaxy Tab 2 10.1's 3G and Wi-Fi network options. The same goes for the Samsung Galaxy Note 10.1. Moreover, file transfers can easily be done via Bluetooth or via USB 2.0. The original Galaxy Tab 10.1 successor does have the advantage when it comes to external viewing by allowing you to use its TV-out to connect to a TV or monitor.
BATTERY
Android tablets are often used to browse the web. In effect, they consume a lot of power and may not even last a day without being recharged. Thus, it is important that you choose a slate with a reliable and long-lasting battery. At least, we can say that the Samsung Galaxy Tab 2 10.1's 7000 mAh standard Li-Po battery can pretty much handle your need to be always connected to the web world. Likewise, the Samsung Galaxy Note 10.1 can also provide you with a decent 7000 mAh standard Li-Po battery. Regardless of your choice, you will feel secured that your slate won't turn off in the middle of your Skype conversations. Just don't forget to bring your battery charger. It's better to be prepared than being left with no choice at all.
VALUE-ADDED FEATURES
Of course, who wouldn't like to get a bang for their buck? With these two new Samsung slates, you will be able to treat yourself with Google's exclusive suite of services with pre-installed apps and widgets with free access to the Android Market. The Galaxy Tab 2 10.1 may have its TV-out for external viewing but the Galaxy Note 10.1 can definitely take pride of its integrated Photoshop Touch App that you can readily use to edit your photos. But that's not all. The Note will also feature its built-in video editor.
PRICING & AVAILABILITY
As of now, both slates have been officially announced. However, Samsung did not give any clear statement regarding the Galaxy Tab 2 10.1 and the Galaxy Note 10.1's official date of launch. The Korean tablet maker did state that there's a probability for the latter to be released sometime within the second quarter of this year. Even so, speculations are currently eyeing on the possibility that the Galaxy Note 10.1 will be sold for a price that would be a bit higher than the Galaxy Tab 2 10.1. Come to think of it, there's a reason why Samsung opted to downgrade the Galaxy Tab 10.1's front facing camera to VGA. The question here is – would you be willing to pay for more for the Galaxy Note 10.1's 2MP front camera, S-Pen and 1.4GHz Dual Core Processor? If you would ask us, we'd be more than willing to do so.
CONCLUSION
Every aspect that we have mentioned in this Samsung Galaxy Tab 2 10.1 and Galaxy Note 10.1 specs and price comparison is essential. Apparently, the Galaxy Note 10.1 wins over the Galaxy Tab 2 10.1. Its processor is far more powerful and it can provide a better image quality for video calls. Most importantly, you will be able to take advantage of the slate's revolutionary S-Pen stylus. Some may say that the S-Pen isn't that necessary since you can always use your fingers to type on the slate's virtual keyboard. But, do take note that it's pretty useful for highlighting the things that you want to emphasize on your photos, messages and memos. It adds more personality and it's the perfect tool for your photo editor.
As we've said earlier, the choice is all yours. Both are very good tablets that you can use at school or at work. It's just a matter of assessing your needs and you must also consider the price of the tablet. By the time that these slates will be made available in the market, your local retailers and carriers will definitely offer a lot of payment options. Credit card owners do have the advantage because they can opt to pay for the slate via installment basis while those who prefer to pay for the full price of the tablet will need to save a portion of their monthly budget. Don't worry though. You still have a couple of months to prepare your cash.
Anyways, even if the Galaxy Tab 2 10.1 will be offered for a cheaper price, we'd still place our bet on the Samsung Galaxy Note 10.1 tablet.