Samsung Galaxy S3 equipped with LTE capability has been confirmed to be coming to Canada in time for the summer, according to Samsung Mobile Canada in an official press release today. We already know that it is also queued for the United States (US) release and would also take advantage of the 4G LTE network which has already reached a wider audience after more than a year of continuous growth. What we do not know are the specs that LTE-capable Galaxy S3 have. Three of the major operators in Canada (Rogers, Bell and Wind Mobile) have also confirmed that they will be offering Samsung's newest flagship. But then again, no specs were revealed and that leaves us to think that the LTE models have different specs than what we've already seen during the Galaxy Unpacked event in London on May 3rd.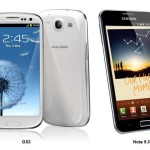 Canadian carrier TELUS was the first one to confirm the Samsung Galaxy S3 offering. And together with Samsung Mobile Canada today, it announced that summertime would be the perfect time to release the much anticipated high-end smart phone in Canada. And since it is in the process of growing its customers under the 4G LTE network, it will be offering the controversial LTE version of Samsung Galaxy S3 which many believe to come with a different CPU with two cores and 1.5 GHz clockspeed. Reports suggested that the most likely candidate would be Qualcomm's Snapdragon S4 CPU as it has been proven to work smoothly under the LTE network, although this has never been confirmed by Samsung and concerned parties. So, we are left speculating what the specs of the LTE-capable GS3 would be.
Actually, we were expecting that there would be different models that would be introduced by Samsung during the May 3 launching but we were wrong because there was only one and that was the model that comes with Samsung's own Exynos 4 Quad processor. We knew all along that the LTE version would have a different CPU and slightly different specs and we were waiting during the launch that the representatives would show the dual-core model but to no avail. Just like in HTC One X case, the LTE models have to bear a different CPU just to provide the service expected of them; the data download speed is fast but the specs are lowered a bit.
We can actually expect that when we want to make use of the 4G LTE connectivity, we have to get a Samsung Galaxy S3 with a bit lower specs than the original wherever we are. So, we speculate that the LTE models that will be brought to the US and Canada are actually the same. But the question is, would there be a noticeable difference in performance between a dual-core and quad-core model? The answer is no, it is not noticeable.
As far as normal operating performance is concerned, you will never know if the one you have is a dual-core or a quad-core unless you'll look into the specs. There will only be a difference when operations that require hyper-threading are being performed. These operations could be normal in computers as there are software that requires up to 8 threads to run simultaneously like video editing software. For smart phones, I haven't know one simply because Android apps as well as other operations are lighter than what we expect. But of course, it is always better to have a more powerful device.
Anyway, the pricing for Canadian Samsung Galaxy S3 LTE models hasn't been revealed by TELUS or the other carriers. But it won't be long now before we hear updates about the real specs of the LTE GS3 as well as its pricing for cash and installment basis. Stay tuned as we will bring you the latest updates, rumors and news about Samsung Galaxy S3.