Samsung Galaxy S3 just recently launched in London in an event called "Galaxy Unpacked." For so many months now, this handset has been the focus and highlights of thousands, if not millions, of technology sites and blogs all over the world. Basically, it has built a huge hype which we feared it could never live up but we were wrong. Samsung Galaxy S III has everything to please tech enthusiasts, Android lovers and typical smartphone users. And while we have been publishing every single rumor we heard of it for the last five months, it is just right for us to publish the real specs and complete list of features including all those confirmed rumors and speculations.
Samsung is bracing for a global release. It is said to be released or distributed in 145 countries and the Korean company has already tied up with 296 phone companies around the world and they are expected to help in making this handset more popular than before, Needless to say this is Samsung's biggest release, so far.
Samsung Galaxy S3 Full Specs
We've been starved for information ever since we heard that Samsung will be releasing Samsung Galaxy S3. All those times the information we ever got hold of are all rumors because the Korean company did a good job in hiding all the necessary information about its new flagship. But today, we are lucky as we will be able to know the real specs and features of this great phone. Continue reading and you will get acquainted with it.
Processor. One good things about this device is that it runs with all things Samsung and it starts with the CPU. Samsung Galaxy S3 sports the company's very first quad-core chipset, the Exynos 4 Quad clocked at 1.4 GHz frequency. This is by far the best you could hope for in a Galaxy S series and you are just lucky to have this handset.
RAM. Having a 1 Gigabytes (GB) of RAM is actually the highest you could get nowadays. In truth, it is more than enough to run everything. Android apps require very small amount of memory so you couldn't possibly ask for more.
Screen. One of the features of this device that Samsung is taking pride of is the display because it bears the latest Super AMOLED HD display technology that the company has developed through the years. The fact is, it is the most sought-after display technology nowadays. This technology also brings 720 x 1280 pixels resolution.
Storage. There are three available models having announced by Samsung during the Galaxy Unpacked event in London on May 3rd: 16 GB, 32 GB and 64 GB. Either of the three will provide you the service you need as well as the performance Samsung promised for its loyal patrons. Additionally, anyone who buys this handset will get 50 GB of free storage from Drop Box good for 2 years.
Battery. Samsung Galaxy S3 will be getting a huge one with 2,100 mAh power output that could power this device up for up to 9 hours of continuous talk time. And since GS3 features wireless charging, you can also take advantage of it.
Camera. What Samsung didn't put some major bumps is the camera. S3 will be getting just 8 megapixels on its primary while the secondary gets 1.9 MP. Nevertheless, this feature is not a necessity for people who are looking for devices with beastly performance. 
(OS). You can surely guess that Samsung Galaxy S3 will be getting an Android 4.0 Ice Cream Sandwich (ICS) OS. Any version lower than this would put this device's reputation in jeopardy. So the company made sure it has what it takes to be called the most updated smartphone this year.
Samsung Galaxy S3 Features
Specs and features are two different things but most of the time we like to include some specs as among the features. But anyway, let's try to look into the things that make GS3 one of the much anticipated smartphone releases this year.
Direct Call. If you have already the number on your screen, you don't actually need to hit the dial button; put it up on your face the phone will dial the number automatically. There is a sensor that would trigger the dial action as long as a phone number is already on your screen by the time you put it on your face.
Smart Stay. For some who don't know that this feature exist will literally say Galaxy S3 is a really "smart" phone because it won't go dim as long as your eyes is fixed on it even if you haven't been using it for several minutes already. It actually tracks your eyes and that's what makes the feature dubbed as "Smart Stay" possible.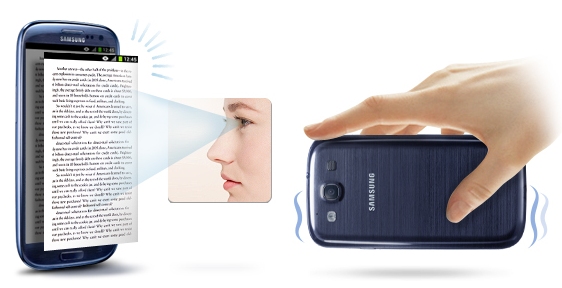 Bust Shot & Best Photo Selection. You will be amazed to know that GS3′s 8 MP camera can do the 20-shot burst mode. For sure it will take time to see each photo on your own to select the best shot among them. But you don't actually have to do that because Galaxy S3 will do the honors of suggesting the best shot you got.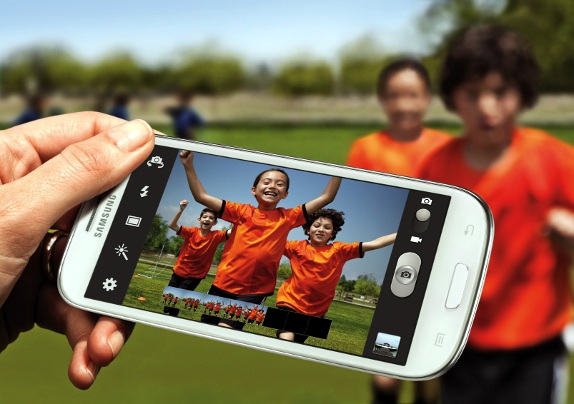 Social Network & Camera Integration. Galaxy S3 comes with the social app called Buddy Photo Share wherein pictures are automatically tagged and sent to the people who were identified in them. With Group Tag, you can also tag as many people as you like in one tap.
Face Zoom & Slide Show. If you have a picture of a group, you can tap on a face to zoom in. Slide shows of faces that appear on one picture will automatically be created. You could really say it's a smart phone, right?
S-Voice. If iPhone has Siri, Samsung has this. You can control some functionality in your phone by giving voice commands. Among those things are volume adjustments and screen locks. You could also ask some questions.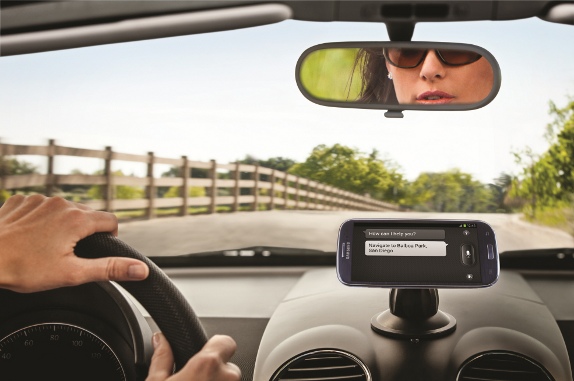 S-Beam. This is a service available only for Galaxy S3. S-Beam is actually a mode of data transfer using Near Field Communication (NFC) technology or WiFi Direct. Phones that are touched together can attain a data transfer speed of up to 300 Mbps.
When & Where We Can Get Samsung Galaxy S3
The global release of this device is reportedly to be on the 29th of May including the United States (US). In the United Kingdom (UK) and the rest of Europe will be receiving it on the 30th.
In the US, there will be 7 carriers that will offer Samsung Galaxy S3, namely: AT&T, C Spire Wireless, Metro PCS, Sprint, T-Mobile, US Cellular, and Verizon. T-Mobile already confirmed that it will be offering the quad-core model, but we haven't got any feedback from other operators yet. You can also have yourself registered through the official Samsung registration page if your want. You can find a list of the carriers that will offer this device there.
In the UK, it has also long been confirmed that Carphone Warehouse and Vodafone will be offering this device. Just today, we received information that O2 and Orange will be helping in the distribution, too. All of these will be offering the quad-core Samsung Galaxy S3.
Sad to say, we haven't got information from concerned parties about the pricing of this device but we are working on it. We will be posting the prices and tariffs as soon as we can acquire sufficient information. As of now, there are rumors about the prices but we cannot just publish them unless confirmed. So stay tuned as we will bring you the latest updates about this device. If you have questions, don't hesitate to post comments or send us an email. We will reply to your inquiries as soon as we can.